ACSO Asks For Help Locating Several Men With Outstanding Warrants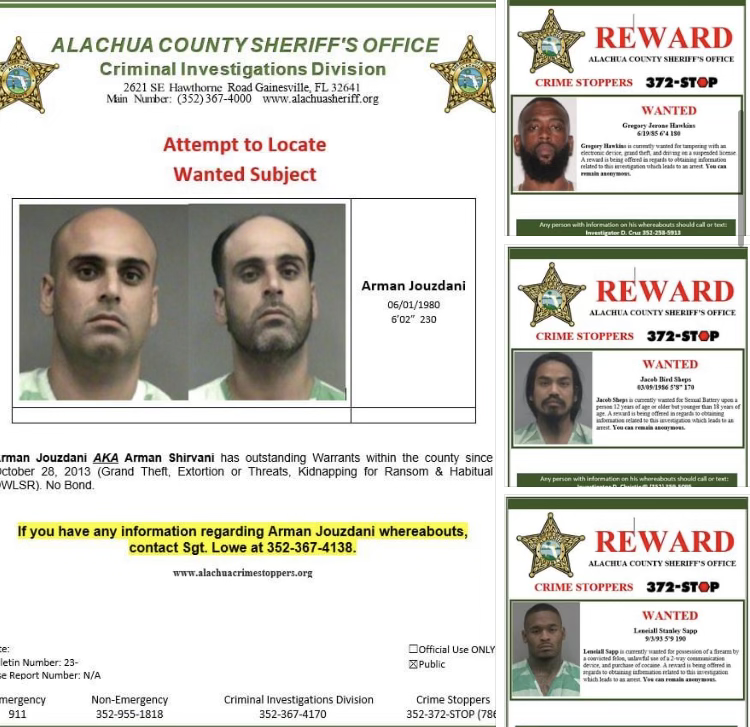 On October 20, the Alachua County Sheriff's Office (ACSO) made a Facebook post asking for help locating Arman Jouzdani, Jacob Bird Sheps, Gregory Jerone Hawkins, and Leneiall Stanley Sapp.
Sheps, 37, is wanted for sexual battery of a person between 12 and 17 years of age. He is 5'8 and 170 lbs. He has no bond.
Sheps has a long criminal history, with a plethora of burglary and grand theft charges. This is his worst offense.
Jouzdani, 43, is wanted for grand theft, extortion, kidnapping, and driving without a license. He is 6'2 and 230 lbs. He has no bond.
In 2010, Jouzdani was found guilty of kidnapping an adult for ransom and extortion.
Hawkins, 38, is wanted for grand theft, driving on a suspended license, and tampering with an electronic device. He is 6'4 and 180 lbs. He has no bond.
Hawkins has previous charges for battery and leaving a hit-and-run scene.
Sapp, 30, is wanted for buying cocaine, unlawfully using a 2-way communication device, and possession of a firearm by a convicted felon. He is 5'9 and 190 lbs. He has no bond.
In 2019, Sapp was arrested and charged with armed robbery. Last year, he was arrested for threatening a woman with a gun. He also has convictions for fleeing police, trespassing, and property damage.
To report any information anonymously, CrimeStoppers can be called at 352-372-7867.