Gainesville Activists Protest Cop City in Riding Down the Walls Protest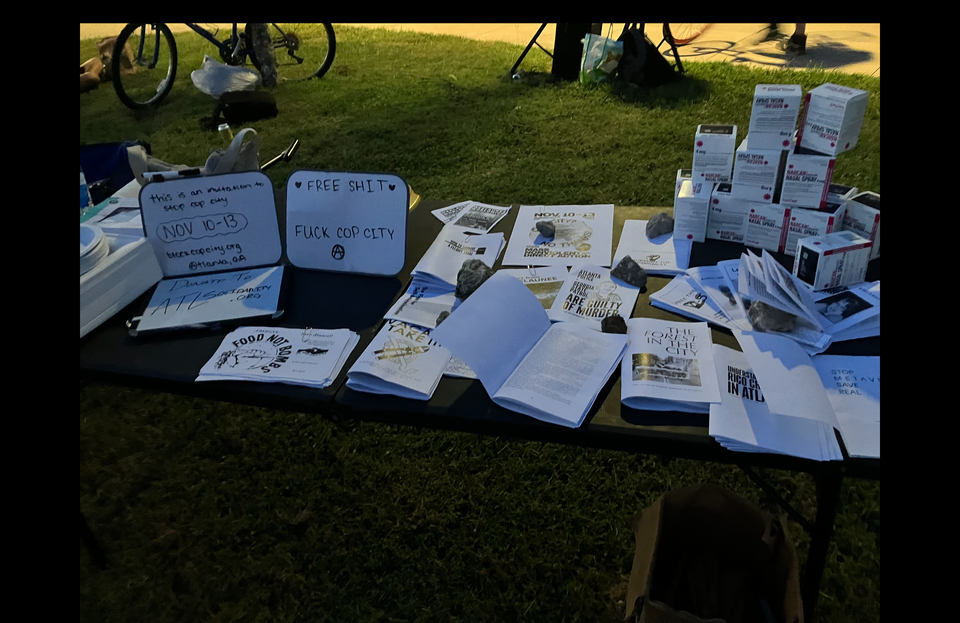 Editors Notes: The Atlanta City Council has approved for 31 million to be paid in tax dollars for the construction of Cop City, with another 36 million to be funded by taxpayers in increments 1.2 million over 30 years.
On September 16, at 7:00 pm, Gainesville activists gathered at Depot Park to protest the Cop City being built in Atlanta, Georgia. The event featured free food, live music, and information pamphlets. Protesters rode bikes on a 5k trail around the park dubbing the name, "Riding Down the Walls."
Pamphlets contained the stories of a number of activists who had been imprisoned under wrongful or controversial circumstances such as Kamau Sadiki, Marius Mason, Leonard Peltier, Mumia Abu-Jamal, and the Virgin Island 5.
The booth also featured information pamphlets on Cop City and the recent indictment of Rico charges against 61 Cop City protesters in Atlanta.
Donations were accepted at the event, with funds being given to Florida Prisoner Solidarity, Anarchist Black Cross, Books for Prisoners, and Stop Cop City.
I got the chance to talk to one of the main organizers of this event who runs an activist group called GNV Solidarity. They outlined the main issues Cop City will bring to policing. They have chosen to remain anonymous due backlash protesters against Cop City are facing.
"Cop city was being built after the murder of George Floyd and the uprising that happened because of that. It happened after Breonna Taylor was murdered. Rayshard Brooks was killed right around the same time. People are pissed off and of course, they're gonna be pissed off when they're being killed by police, Black people and People of Color especially. They have a right to be pissed. Asking for mercy doesn't help anything, doesn't get any results.
They are going to be using the Israeli Defense Forces(IDF) to train police in Atlanta. The IDF is one of the most brutal military forces in the world. They routinely kill children and civilians indiscriminately, as a modern-day colonizing state. Israel is colonizing Palestine, inch by inch and step by step… That's who they're gonna have to train the Atlanta Police Department.
It's over 40 million dollars over budget, and you know who's gonna foot the bill, the people of Atlanta. The taxpayers of Atlanta will be paying an extra 40 million dollars. The city council should've terminated this contract two years ago."
They went on to outline solutions that could be found to this problem, and why they are needed.
"The people that have resources, the people with food, clothes, housing, and money. They commit fewer crimes than people who don't. The homeless shelters in this country are like jails. I had been homeless for over 10 years and I never went to a shelter because they were so bad. I feel better, safer, and more dignified sleeping on the streets than I would in a shelter. Anytime I hear about someone going to a mental hospital, it's a horror story of how they treat them like a criminal, a bad person. If they put less budget into the police and put it into housing, education, and mental health, there would be less crime."