Gainesville Fine Arts Association Celebrates Summer Showcase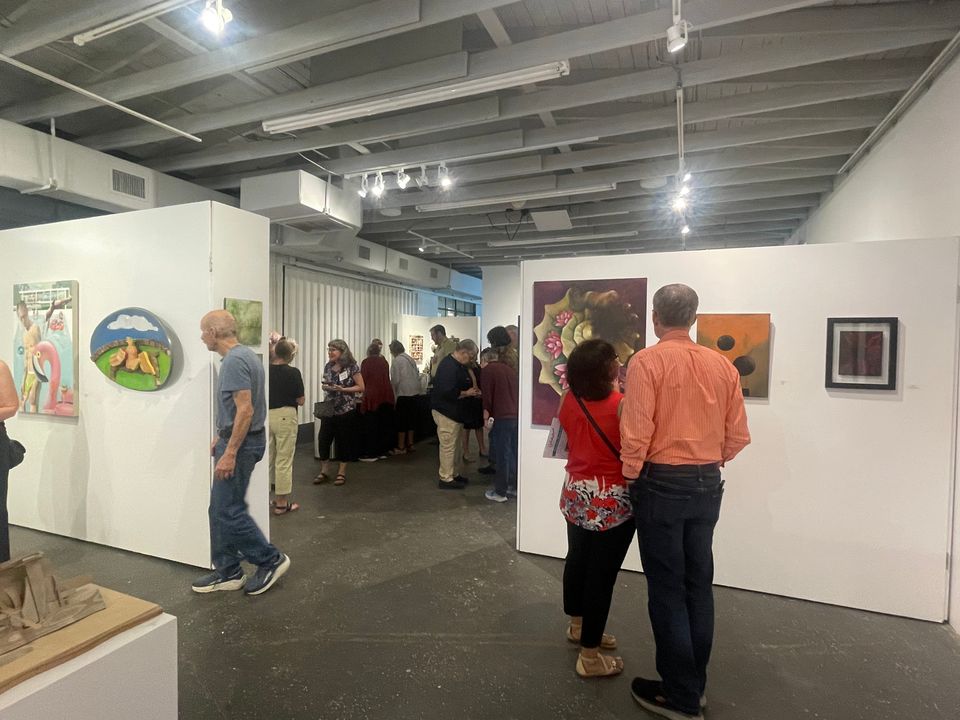 On Friday, July 14, artists and art appreciators gathered at the Gainesville Fine Arts Association (GFAA) to celebrate the unveiling of their summer showcase exhibition. The exhibition features a total of 75 artists and 97 pieces of art. The tour was self guided, allowing attendees to take their time to view different works of art and chat with other guests and artists. The party featured live music, a food catering table, and a slideshow of various studios featured in the exhibit. The gallery featured many different art styles including sculpture, caustic, and painting. Katy Lemle, the Executive Director and Gallery Director organized the art in the showcase, deciding what should be placed where. Cultivating exhibitions once a month, Lemle spoke on how creating the gallery setup is an art form in itself.
"My art is curating exhibitions. My work is like looking at the design of the gallery space, when the artwork comes in I decide how the artwork relates to one another and where to place everything. The white gallery on the wall is kind of like my blank canvas, taking other people's works and creating a cohesive exhibition… I look at color, I look at theme, I look at the concept of the pieces and how they relate to one another. I pick out different pieces that are kind of anchoring different sections of the gallery, and then I work from there. A lot of it has to do with form and color… Sometimes I wanna group all of the same theme in one area, or sometimes it's like a color theme. I also stand back and imagine people moving through the space."
The GFAA offers events like these for experienced and new artists to come in and connect with each other. Artists from a number of different generational backgrounds attended. Paul Newman started creating art in his 60s, and for the past 20 years he has practiced a range of different styles from painting to ceramic sculpture. Newman shared his story of how he was once into art at a young age, and how he once again found it later in life.
"I remember my first moment of being in an art class in England, which is where I was born. We were drawing ships, six other young guys like me, all of us five years old. My teacher came up to me, picked up my drawing, took it to this other boy and he looked at it and he looked at her and said, 'I'm afraid madam this is beyond repair.' From that moment on I didn't do art. I worked at UF for many years. When I retired from UF, I went to New York and I had a retirement withdrawal, I didn't know what I was gonna do. One morning I got up, found a piece of paper and put it on the table… I started sketching and said that's what I'm gonna do. Since then I've gone out to New Mexico to do a mural, another one here at the library at Starke, all sorts of different stuff."
One of the most unconventional art styles featured in the showcase is found-object art. Found-object art is the practice of finding various metal objects and getting them to stick to one another through holes and hooks. Suzane Stone, a found-object artist featured in the showcase, went into detail about the work that goes into creating her pieces.
"I'll be driving by and there's a farmstand over here and I'll see like a pile of chains and I'll be like 'oh my god I gotta turn around and get it'. It's important to make something out of it. I pick up metal pieces, I like aluminum. I was really big into aluminum, kind of big into copper. I go to the repurposed store for goodies… All of it is balanced, no glue. I do use copper wire to make little hooks but everything intentionally. The idea of finding a piece of metal like my "Cassandra" in the last show, it's already formed because it fell on the road and then it gets all smooshed up into this thing, then I make them all together in a form so they go together. Some things will have holes, then I'll do the copper wires, and then hook it all together. They're just hooked together, not stapled or glued, balance is really my thing."
The Summer Showcase displayed numerous different themes in the works that were shown, ranging from nature to existentialism. Kate Murray, a potter with 45 years of experience described the different themes that go into her work.
"On one level it is human communication by way of touch, on another level it is about material and process and it's also about the experience of being alive at different stages in your life. I have many pots that are all about being positive about female-ness, trying to overcome internalized misogyny. I have made another series of pots that are about suiting up and showing up for our times. [Another work is] about being at the end of life and wrapping things up."
Murray went on to speak about how experiences in her life have influenced her themes in pottery.
"I took care of my husband who had cancer until he died. The pots, they're about fortitude. We're about getting ready to do a hard thing, then doing the hard thing. Right now, I realize I'm not at the beginning of things anymore."
The 2023 Summer Showcase is available until July 22. If you would like to view some of the art that was featured you can find a digital gallery here.