Ignite Life Center Responds to Former Church Employee Being Arrested For Sexual Assault Against Children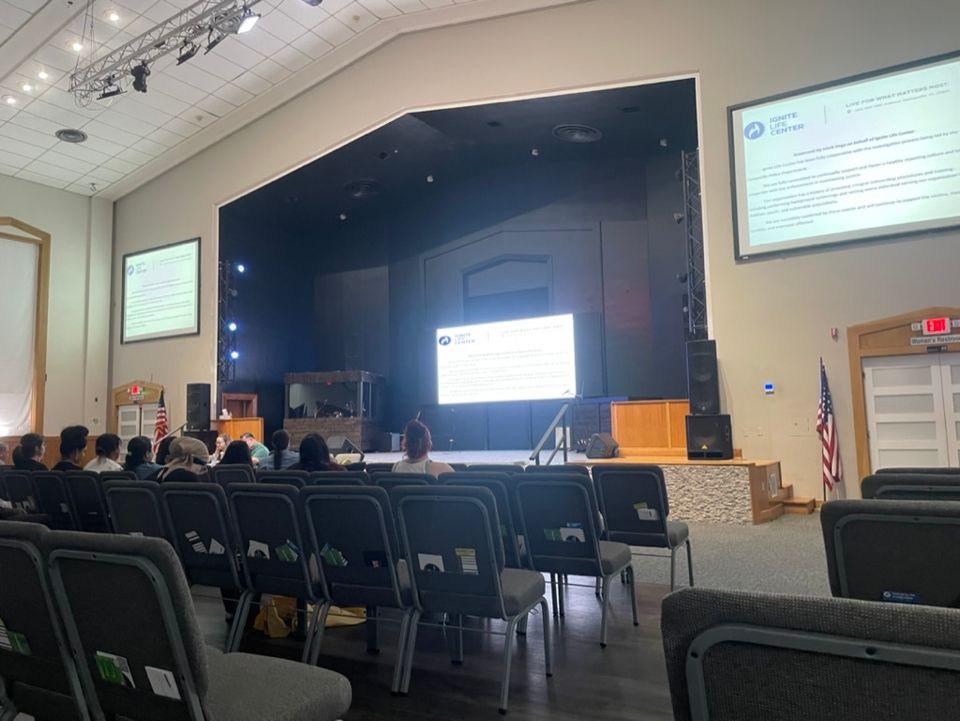 Updated: Sep 17
Update: Hemenez's status on the Alachua County Sheriff's Office Inmate Lookup shows that his trial is still awaiting completion.
Gabriel Hemenez, 28, a former volunteer and employee of the Ignite Life Center Church was arrested on July 6th for two counts of lewd or lascivious molestation and one count of attempted sexual battery of a minor.
GPD Special Victims Unit began investigating Hemenez on February 7, 2023, after a victim reported he was sexually abused by him. The investigation determined that he sexually abused three minors in his care during a month-long youth internship program, held by Ignite in July 2021. He was additionally booked for sexually assaulting one adult. GPD officers have stated more charges may be brought against him in the near future.
On July 6, 2023, GPD detectives traveled to Lakeland to interview Hemenez. He confessed to sexually assaulting three minors and one adult during his time as a volunteer. The detectives obtained an arrest warrant and subsequently arrested him.
Hemenez is currently sitting in Polk County jail. He pleaded not guilty during his first court appearance, according to a report by WCJB 20.
On Wednesday, July 12, Ignite Life Center released a statement on the abuses. Additionally, they held a town hall-style meeting in order to discuss Hemenez's involvement in the church.
Senior Pastor Mark Vega opened the meeting, welcoming everyone and thanking them for coming. He said that "biblical culture is transparent culture" and that they were going to have a meeting concerning some situations that needed to be discussed. Vega additionally said the discussion was open to Q and A, however, nobody in attendance asked any questions when prompted.
Vega then got into the subject matter at hand, starting by essentially reiterating GPD's press release while referring to Hemenez as an "individual." He said the church was unbeknownst to Hemenez's actions. He then announced that Ignite had released an official statement on the matter. Associate Pastor and Public Relations Manager Nicole Gomez read the statement out loud.
Statement by Mark Vega on behalf of Ignite Life Center:
Ignite Life Center has been fully cooperative with the investigative process being led by the Gainesville Police Department.
We are fully committed to continually support and foster a healthy reporting culture and to cooperate with law enforcement in maintaining justice.
Our organization has a history of providing integral onboarding procedures and training, including performing background screenings and vetting every individual serving our organization's children, youth, and vulnerable populations.
We are incredibly saddened by these events and will continue to support the victims, their families, and everyone affected.
Following reading the statement Gomez started talking about the background screening process all employees go through before working at Ignite.
"During his time in [employment] there from 2019 to 2020, he was fully vetted on the licensing standards of daycares and childcare facilities in the state of Florida. That includes national sex offender checks, FBI background checks, local background checks… All these items are required when somebody works with children and that individual went through our procedures before serving for any of our programs. Fingerprint, local background check here with the Alachua County National Sex offender [registry], once again a civil court check. All those processes were followed and found to be cleared therefore the person was employed for those two years of [employment]. We wanted to make sure that is clear as we mentioned in the statement. We do follow very integral onboarding procedures with anybody that is serving children."
Gomez went on to emphasize the fact that Hemenez was a volunteer, not an employee when the reported sexual abuses took place.  
"I do wanna add as well just to ensure this is clear. When this event actually took place he was no longer employed by any of our programs and was rather serving as a volunteer... That process in serving for that other program there was also clearance on background checks of that level. We wanna make sure everyone is crystal clear that this person was background checked and not only background checked but trained. There are different levels of training whether that was identifying and reporting childhood abuse and neglect, or prevention of sexual abuse. Different trainings and different levels of training, that this person unfortunately went through yet these incidents occurred. We wanna make sure this is very clear to all of you."
Vega added to the Ignite's official statement with an emphasis on being more than simply saddened by the situation.
"The statement says we are incredibly saddened by these events, that's an understatement. We are incredibly broken by these events. We have been supporting the victims, and we're gonna continue supporting the victims. Not only enthusiastically or ministerially, but also professionally, that's our duty, that's our responsibility. Not only them, but also their families, and anyone else affected."
Vega went on to say the church would never defend the abuse with examples of positive experiences.
"We have seen and we have graced thousands of young people doing amazing things, but guess what? One person being abused is too many. The answer cannot be and will never be that we've done a lot of good. Yeah, but this happened. Whatever investigation processes are, we collaborate, so I thought you deserved to have a town hall, you deserved to hear from me… We have a very stringent process on how to hire. This is definitely weighing on each and every one of us. I don't even like to hear stories of pets being mistreated, how much more people, especially people that were coming to have the experience of a lifetime."
Vega finished with a prayer for the victims, their families, and their future. He adjourned the meeting before leading a brief bible study.
Following the meeting and service, I got the chance to ask Gomez a few questions. I asked her if the report from WCJB, stating that he volunteered for 5 years from 2018-2023, was accurate. She replied it was inaccurate. Gomez reiterated Hemenez served as both a volunteer and employee during his time with Ignite. He first came in 2018 as a volunteer and then became an employee from 2019 to 2020. He went back to being a volunteer in 2021 which is the time when the reported sexual abuses occurred. He left the ministry in May of 2022.
I additionally asked Gomez what specific steps they were taking to help the victims and she had the following to say.
"As we mentioned inside we are continuing to be a part of their healing journey. In addition to that, just connecting them with other professional resources outside of the community."
Hemenez has an active social media presence on LinkedIn, Instagram, and TikTok. His social media accounts show he has a license in massage therapy. His LinkedIn shows he was employed by Massage Envy. His Instagram account suggests he has attempted to start his own massage business called Genesis Health Massage.  
GPD is requesting any member of the community who may have additional information, or who may be a victim, to contact Johnson at 352-393-7656 or email Johnsonrl@cityofgainesville.org.