OneBlood Opens Gainesville Donor Center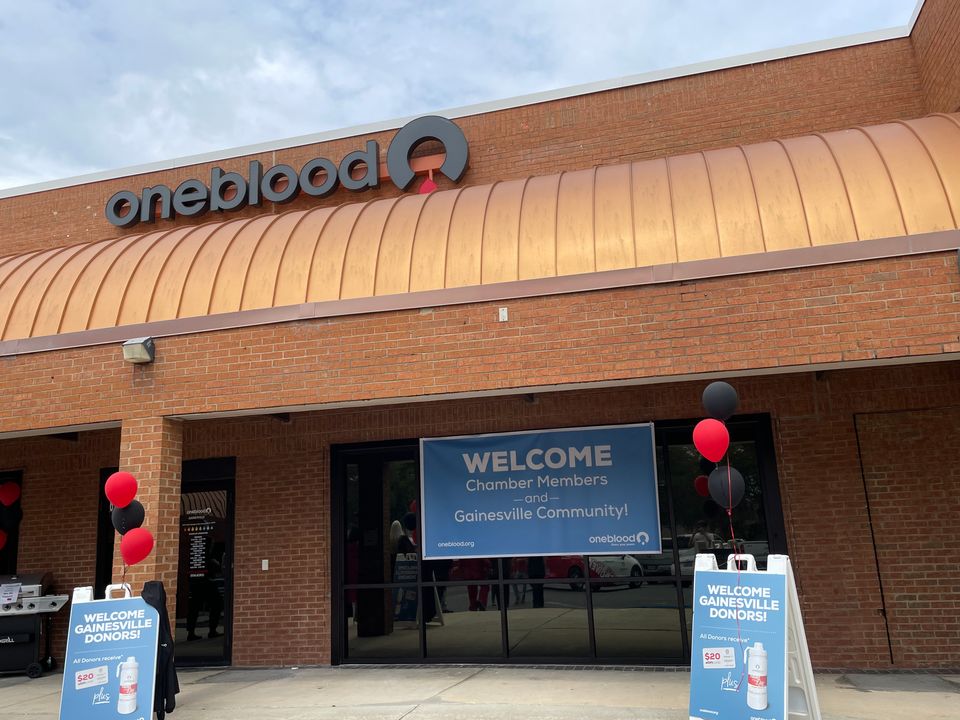 Today, on June 7th, OneBlood held the grand opening of the Gainesville Donor Center, representing a significant milestone in the field of blood donation and transfusion services for the Gainesville community. Equipped with state-of-the-art technology and expertise, this cutting-edge facility aims to ensure a consistent and efficient supply of blood products. Strategically located off Newberry Road, the facility seeks to address the escalating demand for blood products in the state of Florida, with a particular focus on the Southeast region. By offering a comprehensive range of blood components and employing advanced processing techniques, the newly established OneBlood facility in Gainesville endeavors to have a positive impact on patient care, support local healthcare providers, and contribute to the overall well-being of the community.
The facility is modeled after most other OneBlood facilities. With eight beds they're able to operate a multitude of different types of donations at once, including whole blood, red blood cells, plasma, and platelets. The facility incorporates advanced blood extraction technology, including ALYX machines which collect 2 units of red blood cells instead of one. Pat Michaels, the Director of Media and Public Relations for OneBlood, was hopeful the new donor center will positively impact hospitals around Florida. He spoke on how the new clinic can connect to different medical centers around the state.
"We serve for Shands Care flight services so it helps in the overall scope of serving hospitals throughout our region. Some people from Alachua County who come here may go to a hospital that is operated and served by Oneblood so they may go to Ocala, Jacksonville, or Orlando, there's a crossover effect."
The local community and members of the Gainesville Chamber of Commerce gathered to watch the ribbon-cutting ceremony. Eric Godet Sr, the CEO of the Gainesville Chamber of Commerce was confident the increase in access to blood products would positively impact the Gainesville community.
"From a chamber standpoint, we're glad that we've taken a facility that used to be an old bookstore and turned it into an incredibly high-tech facility that can employ a lot of people in our community while also saving lives by delivering blood products."
Godet sees the new donation center as an investment for Southeast Florida and the Gainesville community, citing the growth of the region as causing an increase in the demand for blood products.
The Gainesville Donor Center currently employs 10 individuals, however, Mike Rodgers, the Senior Vice President of Operations for OneBlood, is confident that the facility will grow for years to come.
"As we continue to grow, sky's the limit, we're not here to stay at 10 were here to grow to 15 or 20."
The newly established donor center invests in our state and city by offering a place for people to comfortably donate blood cells, platelets, and plasma. The community and Gainesville Chamber of Commerce have welcomed this investment, recognizing its potential to save lives while contributing to the economic growth of the region. With its competitive wages at $16 an hour and plans for future expansion, the Gainesville Donor Center is poised to play a vital role in creating economic opportunities and meeting the blood supply needs of the community. Operating every day of the week, the donor center encourages individuals to schedule appointments for donations and offers incentives to express gratitude for their support.
The Gainesville Donor Center is located at 6747 W Newberry Road and is open 7 days a week. The following are the Donor Center's hours of operation.
OneBlood thanks all their first-time donors with a $20 E gift card and a water bottle. If you are interested in scheduling an appointment to make a donation at the new clinic you can click here to do so.