Owner of Tight Endz Barbershop, Terry Guider, Arrested For Poisoning Cat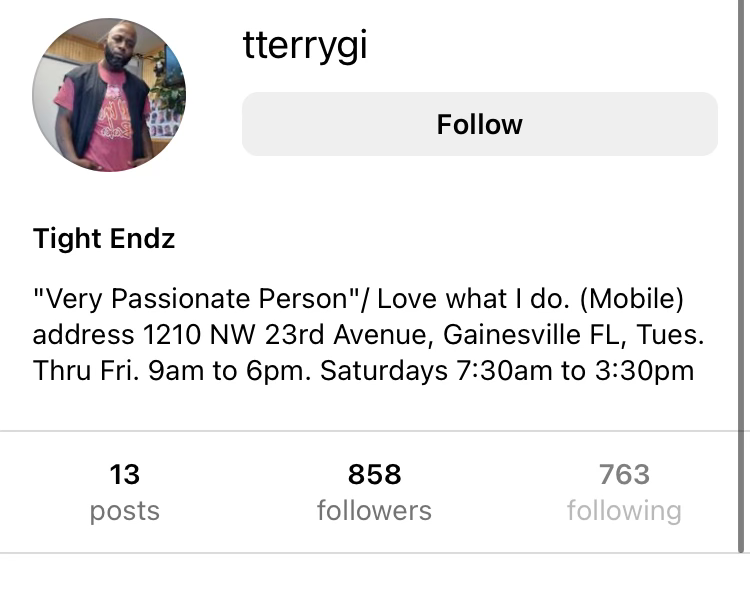 Editor's Notes: The arrest report details the death of one cat, however, the pet owners told the Gainesville Sun their other cat had to be euthanized due to complications from the poisoning.
On October 9th, 2023, the owner of Tight Endz Barbershop, Terry Tyrone Guider, was arrested and charged with animal cruelty after he poisoned his neighbor's cats. According to the arrest report, Guider mixed antifreeze with a bowl of cat food and put it in his yard. The cats did not survive.
On October 1st, Guider was caught on the cat owner's ring camera threatening to kill the cat, stating, "I will kill your cat if they come on my property again." Guider got into an argument with one of the owners before leaving. The following day, the two pet owners returned home to find their cat dead. An autopsy by UF Small Animal Hospital found the cat had symptoms of ethylene glycol poisoning.
Guider reportedly did it because he was upset at the owner's cats for coming into his yard and scratching his car. He additionally told police his brother was an accomplice, giving Guider the idea to put antifreeze mixed with cat food in his yard.
The day following his arrest, Guider requested the court grant him pretrial release.
Guider has faced charges for violent crimes in the past, with multiple charges for battery and assault in 1995. Two of his cases were transferred to another court, while in three, the victim chose not to prosecute.
Guider is an active business owner in Gainesville, owning and operating Tight Endz Barbershop, a mobile barbershop in Gainesville, FL. The Instagram page for Tight Endz can be found here, and the Facebook page can be found here. A link to his Sunbiz page showing he is the registered agent of Tight Endz can be found here. Guider's arrest report and request for release are available for download below.