Police Documents on Owner of Maude's Cafe, Matthew Wrighton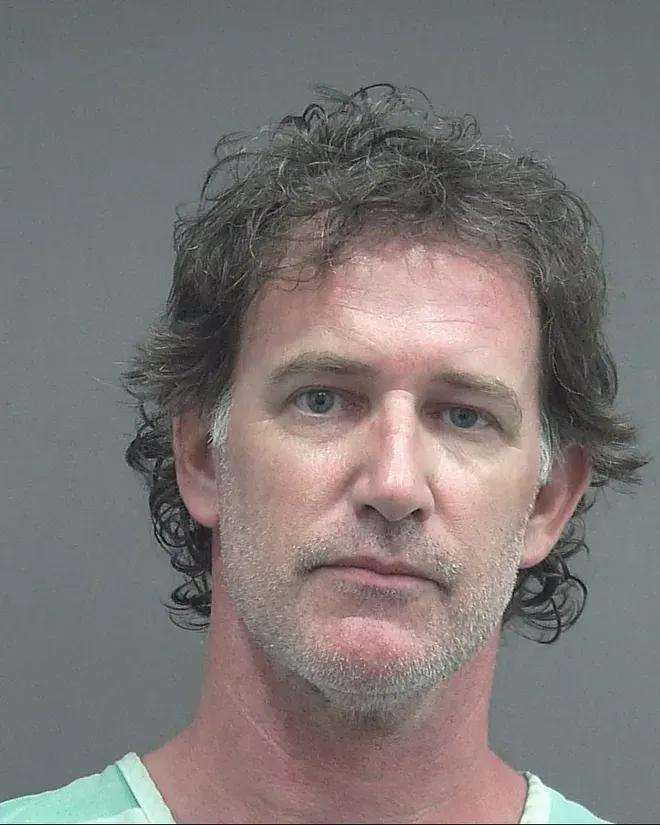 Updated: May 16, 2023
Edited: May 31, 2023
Updated: Aug 27, 2023
Background: Maude's Café is a small coffee shop located in Downtown Gainesville. On September 11, 2015, the owner of the café, Matthew Charles Wrighton was arrested and charged with Attempted Video Voyeurism on a Person Under 16 by a Caretaker. After seeing a phone peeking out of the window, the girl quickly fled the room. Wrighton was released from jail just a day later after posting a $25,000 bond. He admitted to family members of the victim that he was looking at her through the bathroom window but denied attempting to record.
The Gainesville Sun released a report detailing how Matthew Wrighton's daughter, Layne Wrighton, was taking over Maude's following her father's arrest. However, public records, as well as Layne Wrighton's own social media, would dispute this claim. The business registration for all the years following his arrest label him as the owner, and Layne Wrighton's LinkedIn shows she hasn't resided in Florida since 2021. Additionally, the Sun failed to mention the relationship between Matthew Wrighton and the victim, as he was dating her mother.
Business Registration: Every year, Florida business owners must release a report detailing the registered agent of their business. These reports are public information that can be found on sunbiz.org. The first report released after Matthew Wrighton's arrest detailed Matthew Wrighton as the registered agent (i.e., owner) and Layne Wrighton as the secretary. Every report released the years afterward contained no documentation of Layne Wrighton being involved with the business, only Matthew Wrighton. The most recent report was released on April 17, 2023.
In addition to this, Layne Wrighton's LinkedIn account listed her as having left Maude's in September 2021, and only listed her as a general manager, not an owner. It also shows she started a job out of state which leaves out the possibility of her running the business while being off the papers. Sometime between May 2023 and August 2023 all experience relating to Maude's was removed from her LinkedIn account.
Sources:
Most recent registration:
https://search.sunbiz.org/Inquiry/CorporationSearch/GetDocument?aggregateId=domp-p01000118632-95e6d6a2-18db-482b-882a-dfff6fce2197&transactionId=p01000118632-fe3dc028-7ca4-4dc6-b66f-791d62d6cfdf&formatType=PDF
Matthew Wrighton's Sunbiz Page:
https://search.sunbiz.org/Inquiry/CorporationSearch/SearchResultDetail?inquirytype=OfficerRegisteredAgentName&directionType=Initial&searchNameOrder=WRIGHTONMATTHEWC P010001186320&aggregateId=domp-p01000118632-95e6d6a2-18db-482b-882a-dfff6fce2197&searchTerm=WrightonMatthewC&listNameOrder=WRIGHTONMATTHEWC P010001186320
Police Reports: The following are police reports from when Wrighton committed this crime. I will include photos of the documents but have also typed out the pages that are heavy with text for readability. Information including the victim's name, family, and locations of where the crimes were committed have been redacted.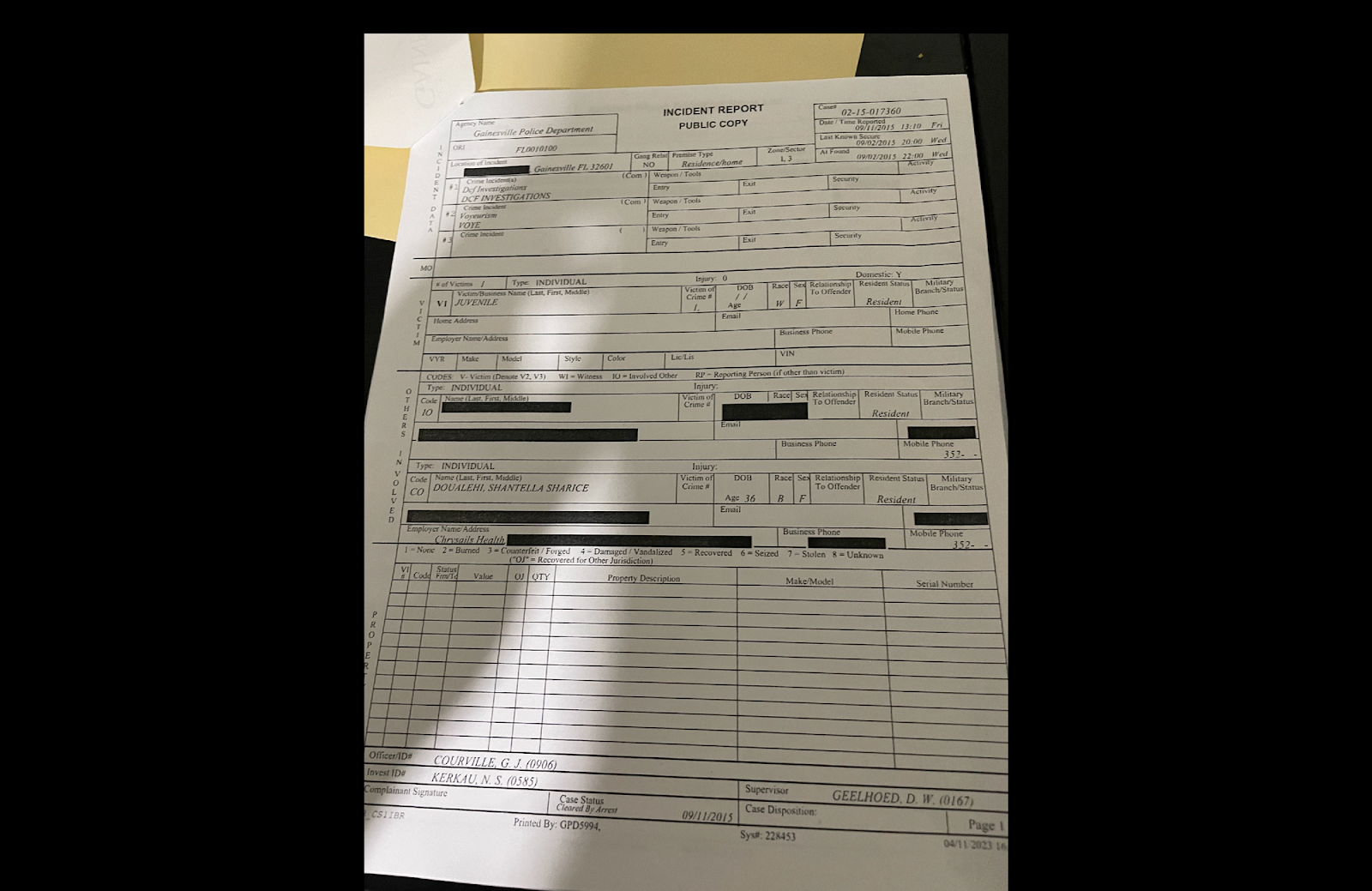 Page 1/10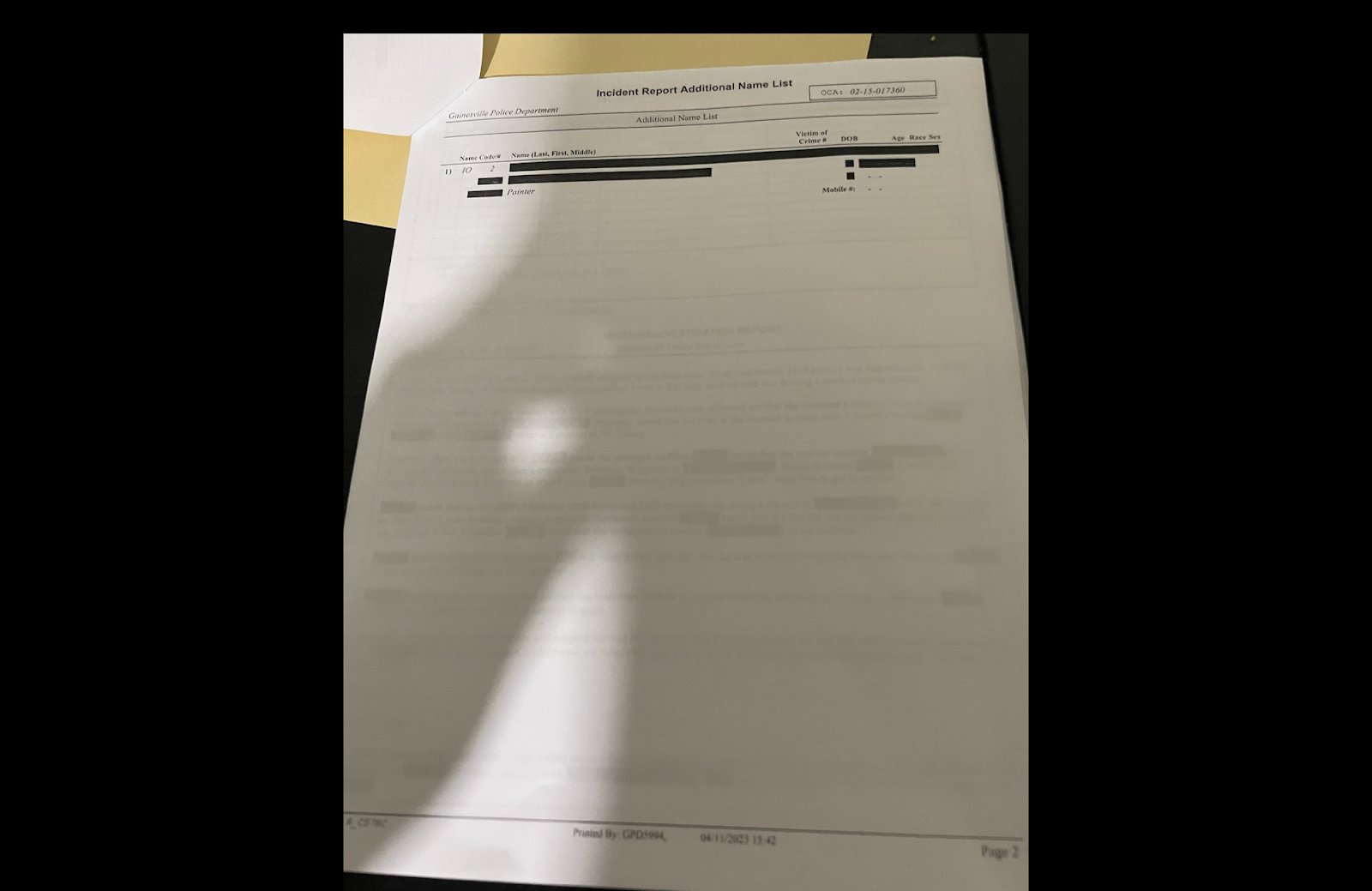 Page 2/10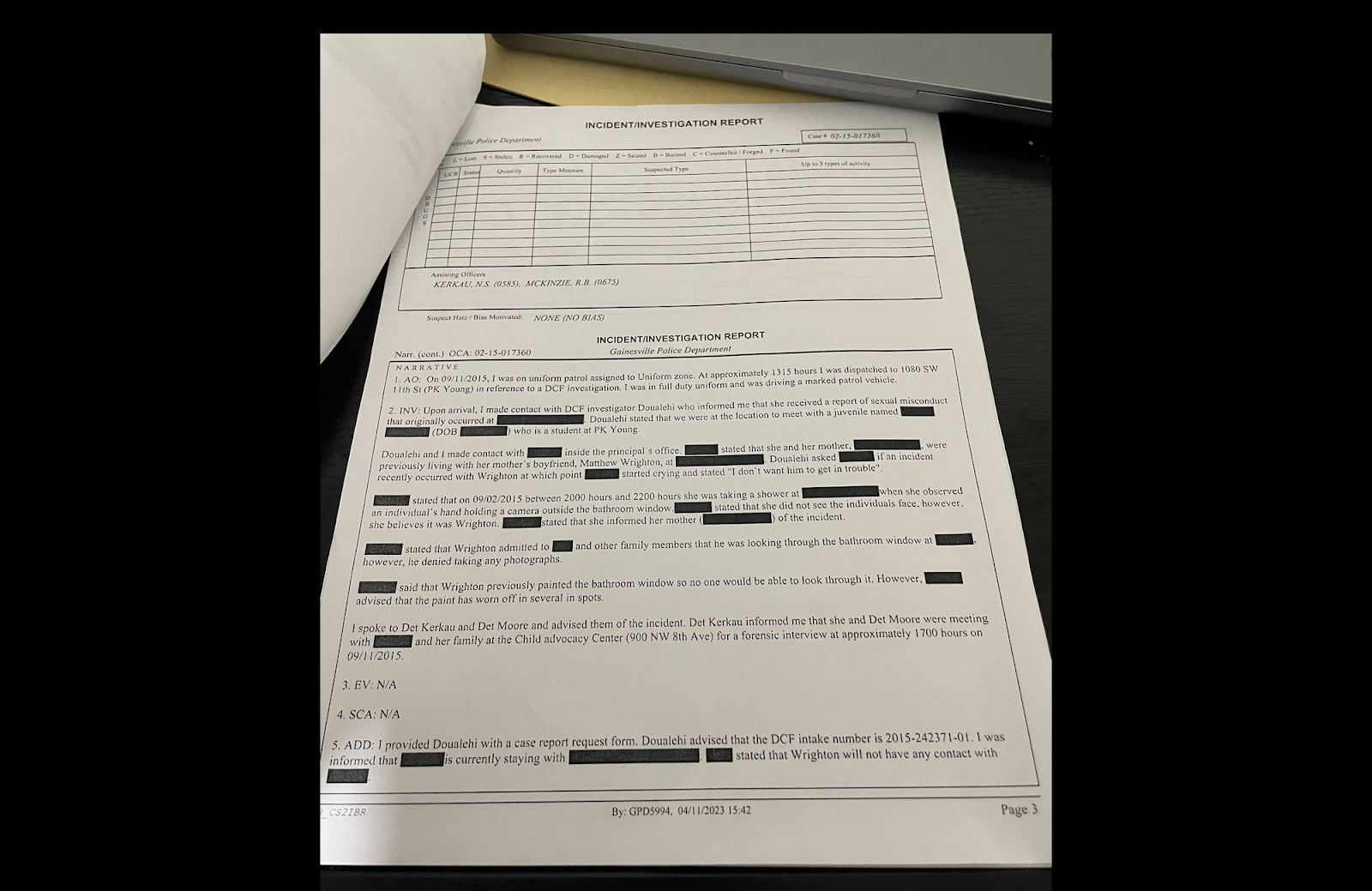 Page 3/10
Incident/Investigation Report
1.AO: On 09/11/2015, I was on uniform patrol assigned to Uniform zone. At approximately 1315 hours I was dispatched to 1080 SW 11th St (PK Young) in reference to a DCF investigation. I was in full duty uniform and was driving a marked patrol vehicle.
2. INV: Upon arrival, I made contact with DCF investigator Doualehi who informed me that she received a report of sexual misconduct that originally occurred at (ADDRESS)  Doualehi stated that we were at the location to meet with a juvenile named (VICTIM) (DOB) who is a student at PK Young.
Doualehi and I made contact with (VICTIM) inside the principal's office. (VICTIM) stated that she and her mother, (REDACTED), were previously living with her mother's boyfriend, Matthew Wrighton, at (ADDRESS). Doualehi asked (VICTIM) if an incident recently occurred with Wrighton at which point (VICTIM) started crying and stated "I don't want him to get in trouble".
(VICTIM) stated that on 09/02/2015 between 2000 hours and 2200 hours she was taking a shower at (ADDRESS) when she observed an individual's hand holding a camera outside the bathroom window. (VICTIM) stated that she did not see the individual's face, however, she believes it was Wrighton. (VICTIM) stated that she informed her mother (REDACTED) of the incident.
(MOTHER) stated that Wrighton admitted to (FATHER) and other family members that he was looking through the bathroom window at (VICTIM), however, he denied taking any photographs.
(FATHER) said that Wrighton previously painted the bathroom window so no one would be able to look through it. However, (FATHER) advised that the paint has worn off in several spots.
I spoke to Det Kerkau and Det Moore and advised them of the incident. Det Kerkau informed me that she and Det Moore were meeting with (VICTIM) and her family at the Child Advocacy Center (900 NW 8th Ave) for a forensic interview at approximately 1700 hours on 09/11/2015.
3. EV: N/A
4. SCA: N/A
5. ADD: I provided Doualehi with a case report request form. Doualehi advised that the DCF intake number is 2015-242371-01. I was informed that (VICTIM) is currently staying with (FATHER). (FATHER) stated that Wrighton will not have any contact with (VICTIM).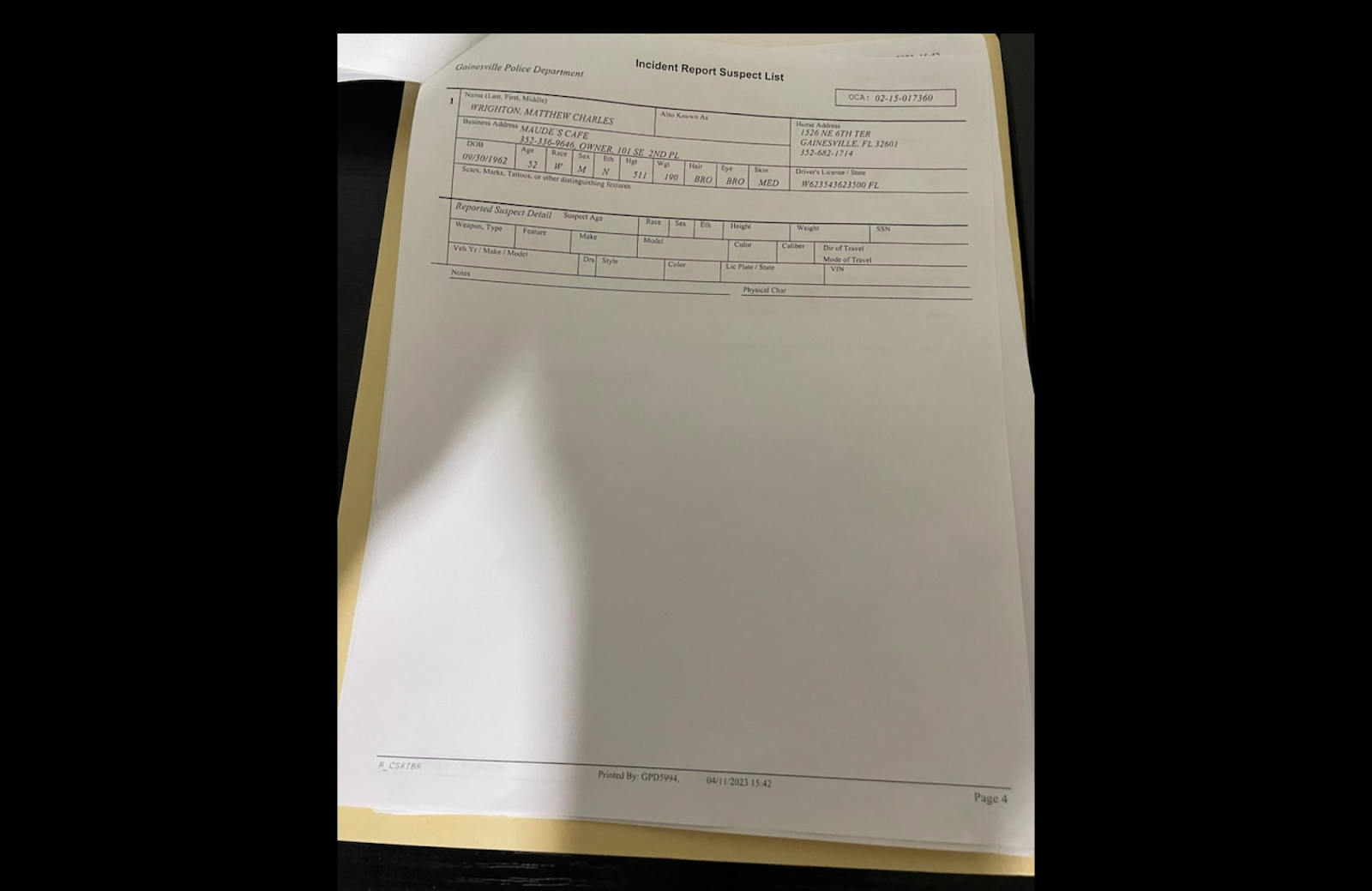 Page 4/10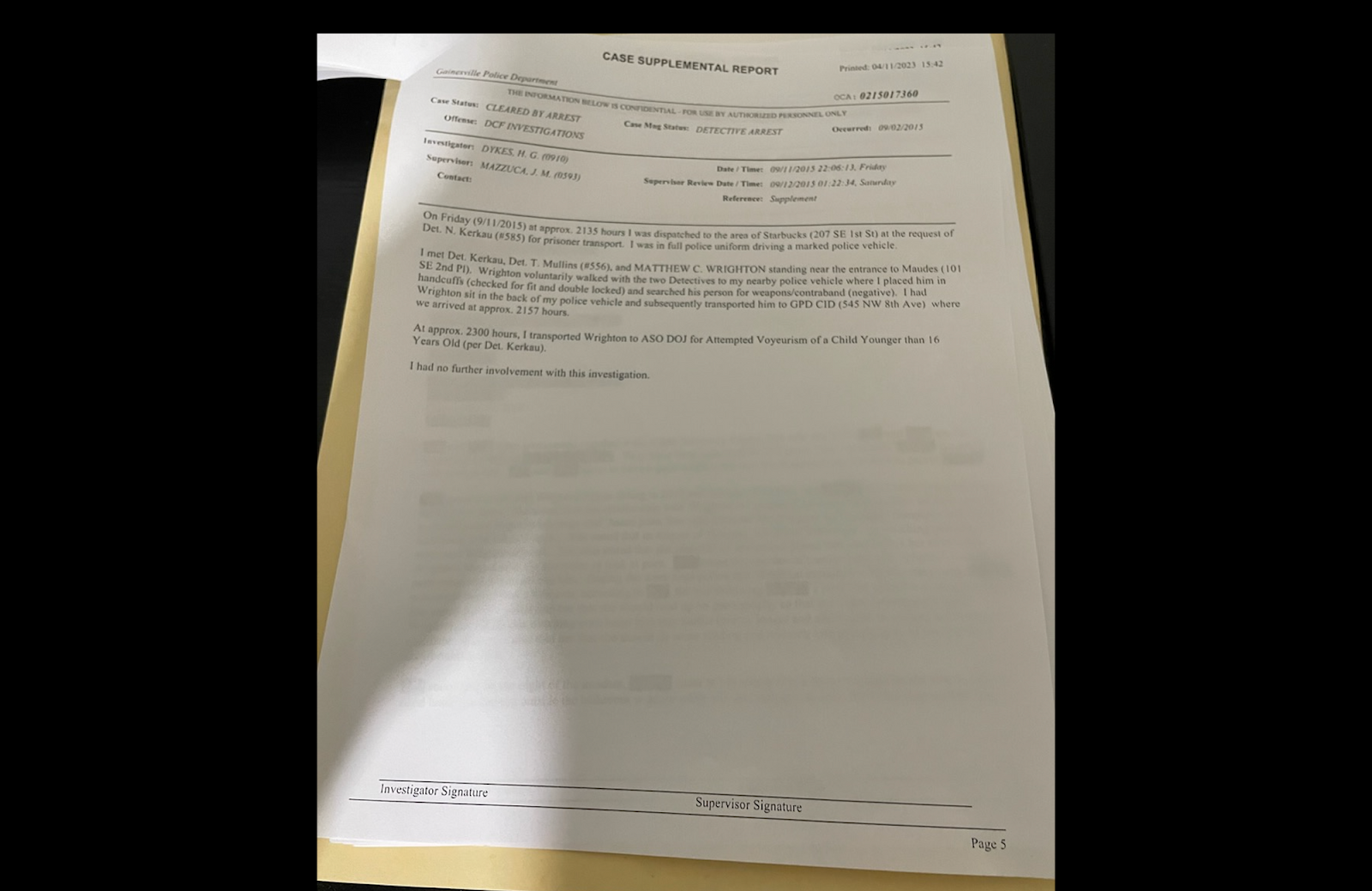 Page 5/10
Case Supplemental Report
On Friday (9/11/2015) at approx. 2135 hours I was dispatched to the area of Starbucks (207 SE 1st St) at the request of Det. N. Kerkau (#585) for prisoner transport. I was in full police uniform driving a marked police vehicle.
I met Det. Kerkau, Del. T. Mullins (#556), and MATTHEW C. WRIGHTON standing near the entrance to Maude's (101 SE 2nd Pl). Wrighton voluntarily walked with the two Detectives to my nearby police vehicle where I placed him in handcuffs (checked for fit and double locked) and searched his person for weapons/contraband (negative). I had Wrighton sit in the back of my police vehicle and subsequently transported him to GPD CID (545 NW 8th Ave) where we arrived at approx. 2157 hours.
At approx. 2300 hours, I transported Wrighton to ASO DOJ for Attempted Voyeurism of a Child Younger than 16 Years Old (per Det. Kerkau).
I had no further involvement with this investigation.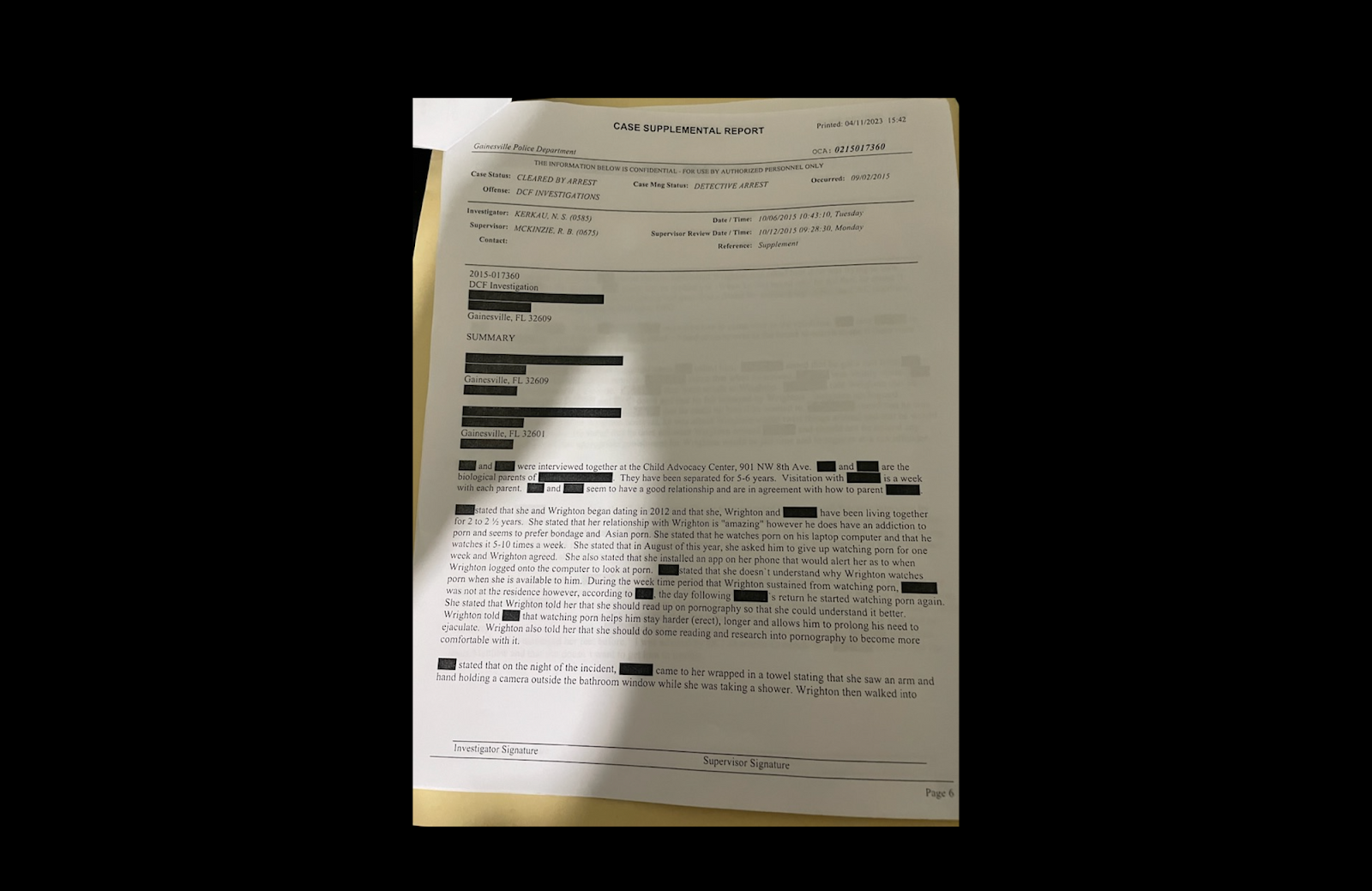 Page 6/10
(MOTHER) and (FATHER) were interviewed together at the Child Advocacy Center, 901 NW 8th Ave. (MOTHER) and (FATHER) are the biological parents of (VICTIM). They have separated for 5-6 years. Visitation with (VICTIM) is a week with each parent. (MOTHER) and (FATHER) seem to have a good relationship and are in agreement with how to parent (VICTIM).
(MOTHER) stated that she and Wrighton began dating in 2012 and that she, Wrighton and (VICTIM) have been living together for 2 to 2 ½ years. She stated that her relationship with Wrighton is "amazing" however he does have an addiction to porn and seems to prefer bondage and Asian porn. She stated that he watches porn on his laptop computer and that he watches it 5-10 times a week. She stated that in August of this year, she asked him to give up watching porn for one week and Wrighton agreed. She also stated that she installed an app on her phone that would alert her as to when Wrighton logged onto the computer to look at porn. (MOTHER) stated that she doesn't understand why Wrighton watches porn when she is available to him. During the week time period that Wrighton sustained from watching porn, (VICTIM) was not at the residence however, according to (MOTHER), the day following (VICTIM)'s return he started watching porn again. She stated that Wrighton told her that she should read up on pornography so that she could understand it better. Wrighton told (MOTHER) that watching porn helps him stay harder (erect), longer and allows him to prolong his need to ejaculate. Wrighton also told her that she should do some reading and research into pornography to become more comfortable with it.
(MOTHER) stated that on the night of the incident, (VICTIM) came to her wrapped in a towel stating that she saw an arm and hand holding a camera outside the bathroom window while she was taking a shower. Wrighton then walked into...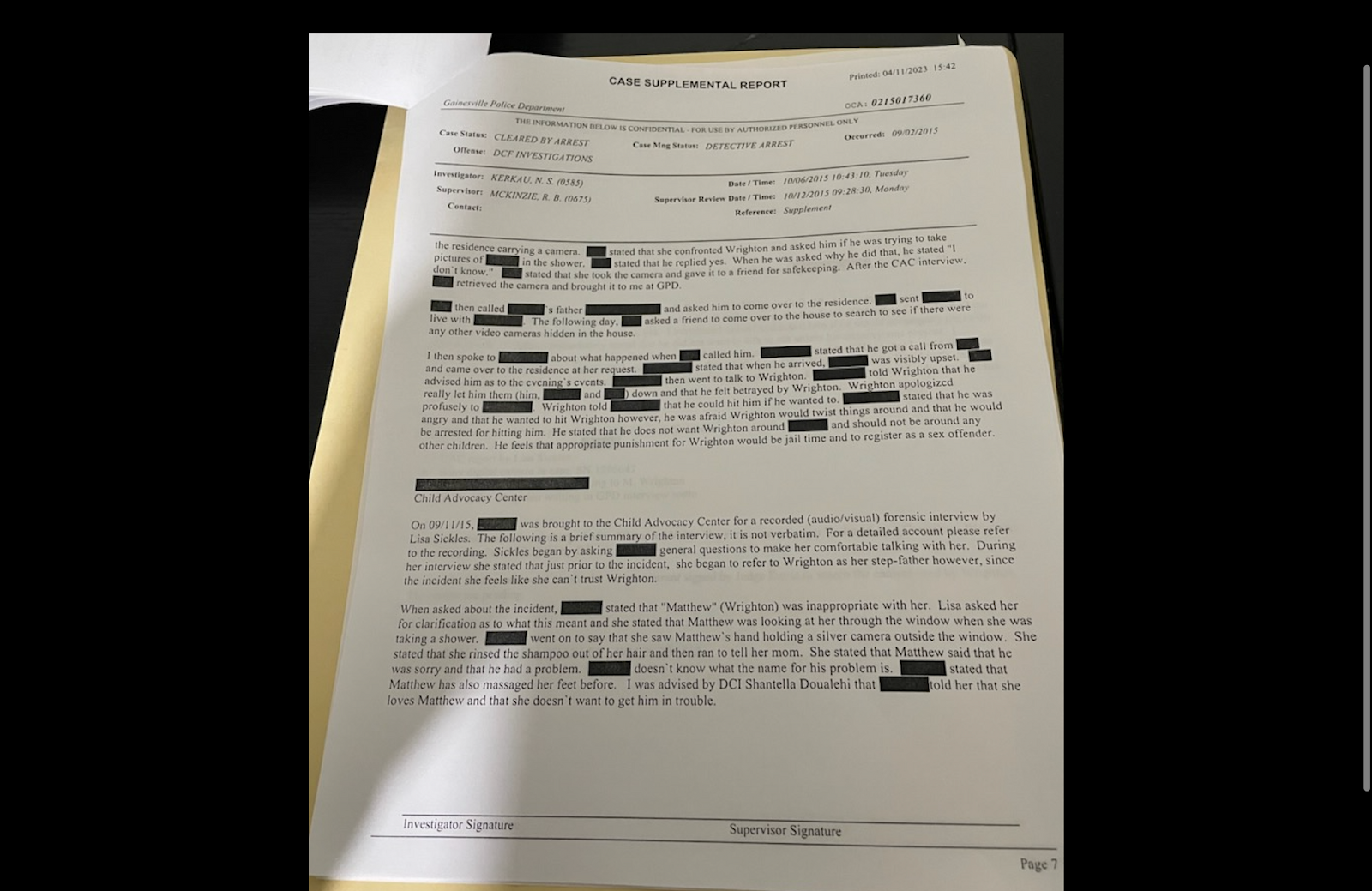 Page 7/10
the residence carrying a camera. (MOTHER) stated that she confronted Wrighton and asked him if he was trying to take pictures of (VICTIM) in the shower. (MOTHER) stated he replied yes. When he was asked why he did that he stated "I don't know." (MOTHER) stated that she took the camera and gave it to a friend for safekeeping. After the CAC interview, (MOTHER) retrieved the camera and brought it to me at GPD.
(MOTHER) then called (VICTIM)'s father (REDACTED) and asked him to come over to the residence. (MOTHER) sent (VICTIM) to live with (FATHER). The following day, (MOTHER) asked a friend to come over to the house to search to see if there were any other video cameras hidden in the house.
I then spoke to (FATHER) about what happened when (MOTHER) called him. (FATHER) stated that he got a call from (MOTHER) and came over to the residence at her request. (FATHER) stated that when he arrived (MOTHER) was visibly upset. (MOTHER) advised him as to the evening's events. (FATHER) then went to talk to Wrighton. (FATHER) told Wrighton that he really let him, (MOTHER), and (VICTIM) down and that he felt betrayed by Wrighton. Wrighton apologized profusely to (FATHER). Wrighton told (FATHER) that he could hit him if he wanted to. (FATHER) stated that he was angry and that he wanted to hit Wrighton however, he was afraid Wrighton would twist things around and that he would be arrested for hitting him. He stated that he does not want Wrighton around (VICTIM) and should not be around any other children. He feels that appropriate punishment for Wrighton would be jail time and to register as a sex offender.
(BLANK)
Child Advocacy Center
On 09/11/15 (VICTIM) was brought to the Child Advocacy Center for a recorded (audio/visual) forensic interview by Lisa Sickles. The following is a brief summary of the interview, it is not verbatim. For a detailed account please refer to the recording. Sickles began by asking (VICTIM) general questions to make her comfortable talking with her. During her interview she stated that just prior to the incident, she began to refer to Wrighton as her step-father however, since the incident she feels like she can't trust Wrighton.
When asked about the incident, (VICTIM) stated that "Matthew" (Wrighton) was inappropriate with her. Lisa asked her for clarification as to what this meant and she stated that Matthew was looking at her through the window when she was taking a shower. (VICTIM) went on to say that she saw Matthew's hand holding a silver camera outside the window. She stated that she rinsed the shampoo out of her hair and then ran to tell her mom. She stated that Matthew said that he was sorry and that he had a problem. (VICTIM) doesn't know what the name for his problem is. (VICTIM) stated that Matthew has also massaged her feet before. I was advised by DCI Shantella Doualehi that (VICTIM) told her that she loves Matthew and that she doesn't want to get him in trouble.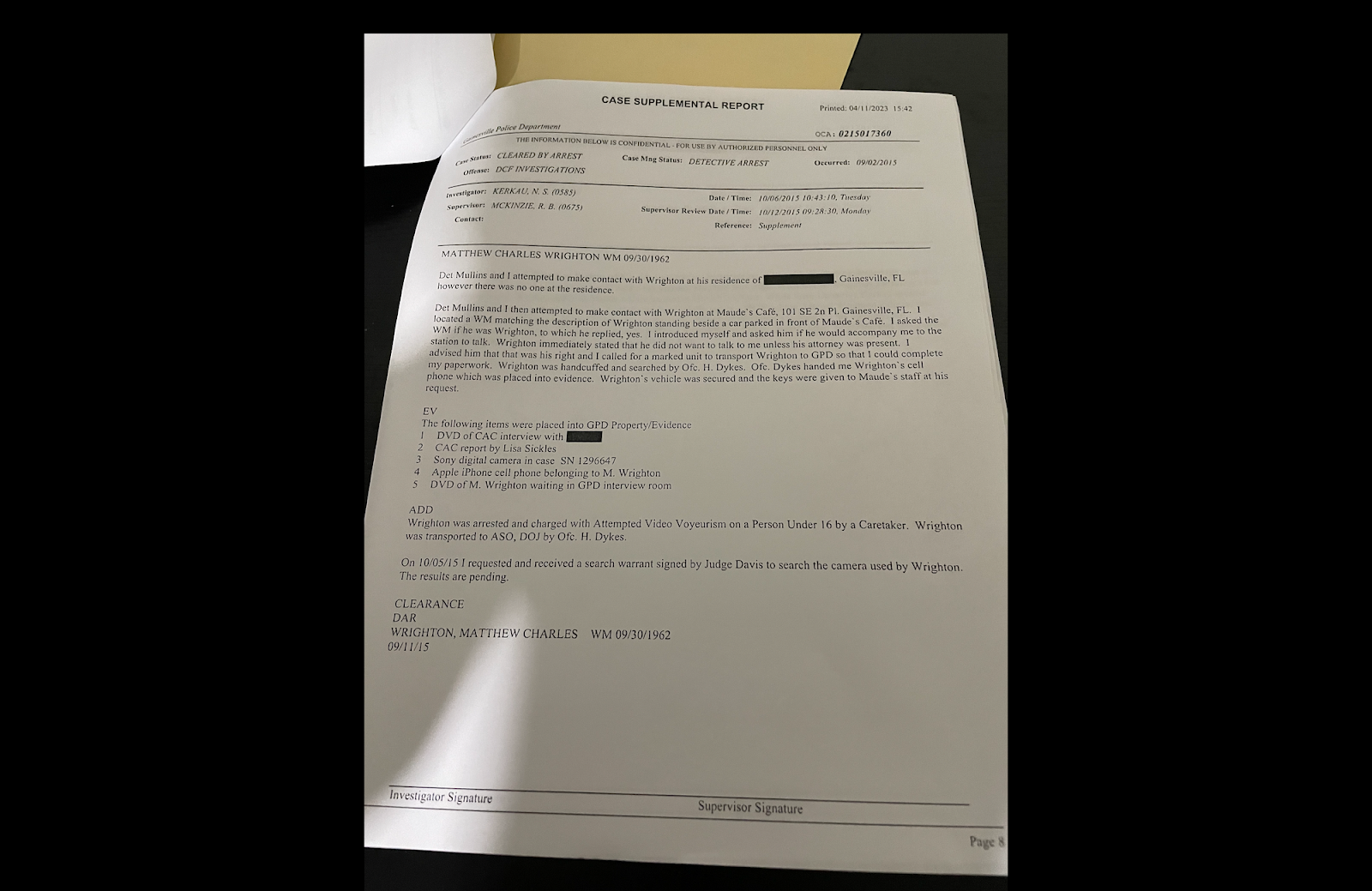 Page 8/10
Date: 10/06/2015
Matthew Charles Wrighton White Male 09/30/1962
Det Mullins and I attempted to make contact with Wrighton at his residence of (ADDRESS), Gainesville, FL however there was no one at the residence.
Det Mullins and I then attempted to make contact with Wrighton at Maude's Café, 101 SE 2nd Pl. Gainesville, FL. I located a white male matching the description of Wrighton standing beside a car parked in front of Maude's Café. I asked the white male if he was Wrighton, to which he replied, yes. I introduced myself and asked him if he would accompany me to the station to talk. Wrighton immediately stated that he did not want to talk to me unless his attorney was present. I advised him that that was his right and I called for a marked unit to transport Wrighton to GPD so that I could complete my paperwork. Wrighton was handcuffed and searched by Ofc. H. Dykes. Ofc. Dykes handed me Wrighton's cellphone which was placed into evidence. Wrighton's vehicle was secured and the keys were given to Maude's staff at his request.
The following items were placed into GPD Property/Evidence
DVD of CAC interview with (BLANK)
CAC report by Lisa Sickles
Sony digital camera in case SN 1296647
Apple iPhone cell phone belonging to M Wrighton
DVD of M Wrighton waiting in GPD interview room
ADD: Wrighton was arrested and charged with Attempted Video Voyeurism on a Person Under 16 by a Caretaker. Wrighton was transported to ASO, DOJ by Ofc. H. Dykes.
On 10/05/15 I requested and received a search warrant signed by Judge Davis to search the camera used by Wrighton.The results are pending,
CLEARANCEDARWRIGHTON, MATTHEW CHARLES WM 09/30/196209/11/15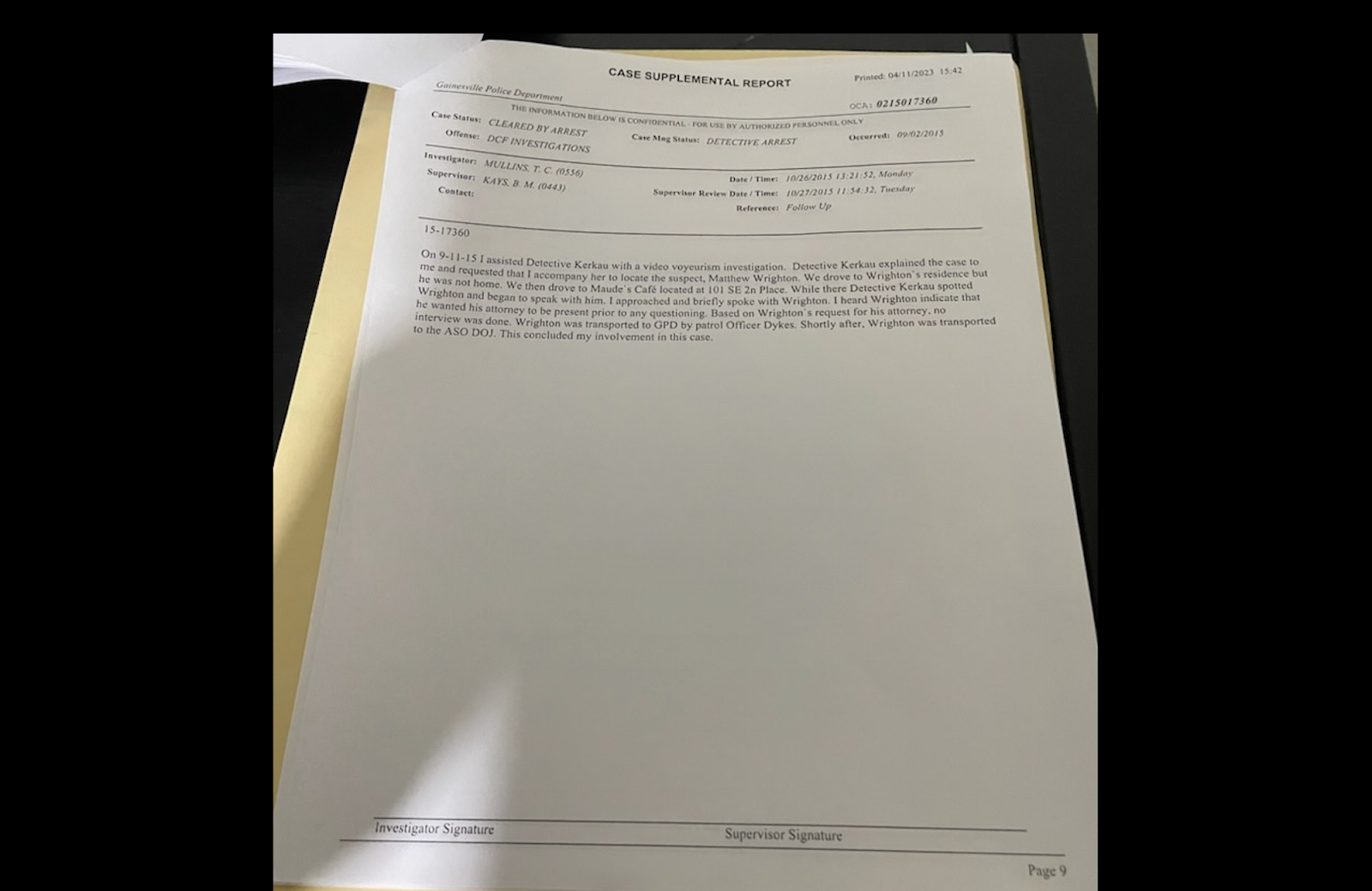 Page 9/10
On 9/11/15 I assisted Detective Kerkau with a video voyeurism investigation. Detective Kerkau explained the case to me and requested that I accompany her to locate the suspect Matthew Wrighton. We drove to Wrighton's residence but he was not home. We then drove to Maude's Café located at 101 SE 2nd Place. While there Detective Kerkau spotted Wrighton and began to speak with him. I approached and briefly spoke with Wrighton. I heard Wrighton indicate that he wanted his attorney to be present prior to any questioning. Based on Wrighton's request for his attorney no interview was done. Wrighton was transported to GPD by patrol Officer Dykes. Shortly after, Wrighton was transported to the ASO DOJ. This concluded my involvement in this case.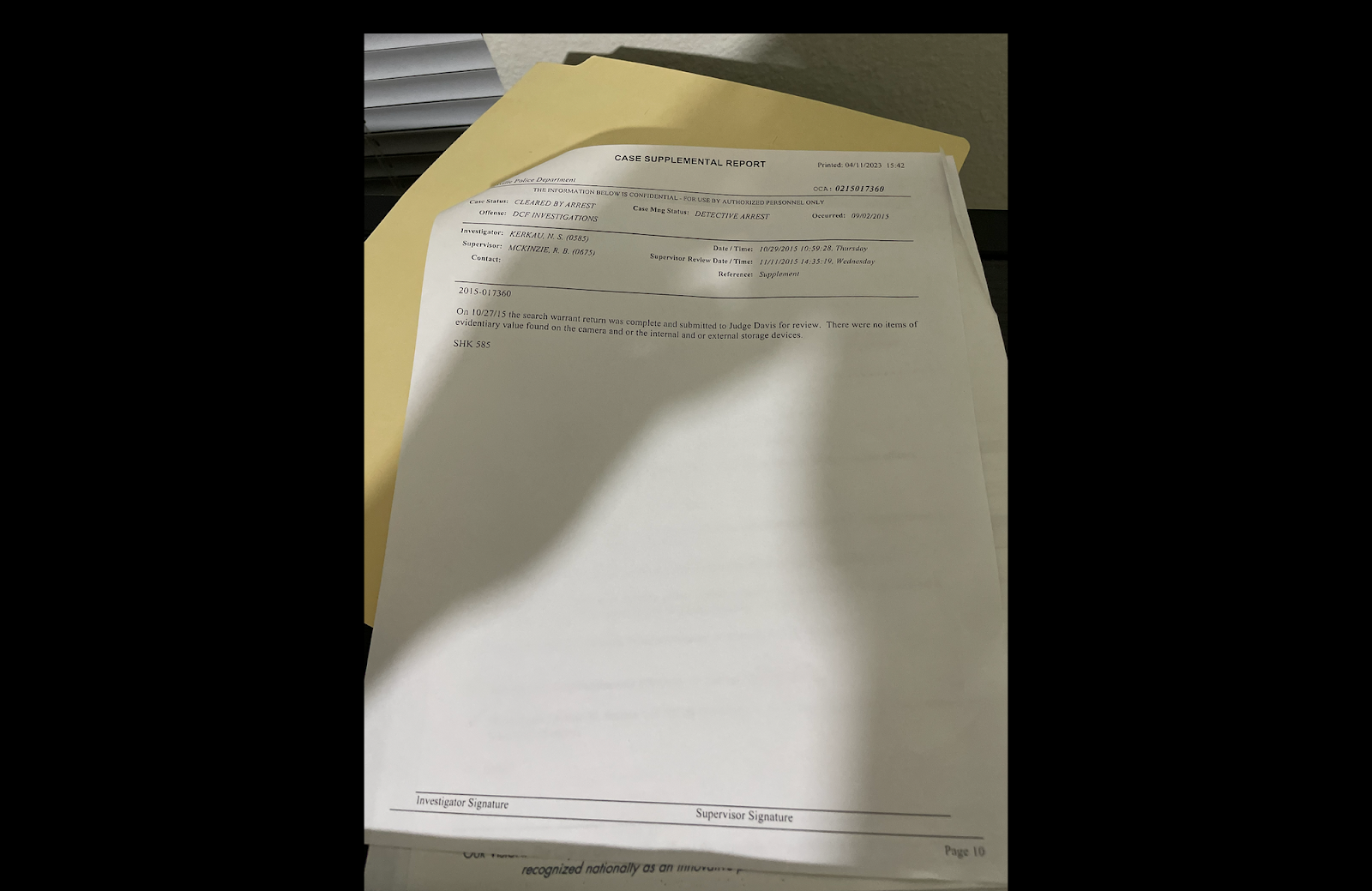 Page 10/10
On 10/27/15 the search warrant return was complete and submitted to Judge Davis for review. There were no items of evidentiary value found on the camera and or the internal or external storage devices.