Shooter Not Yet Identified Days After Man was Shot in the Head in Front of Simon's Nightclub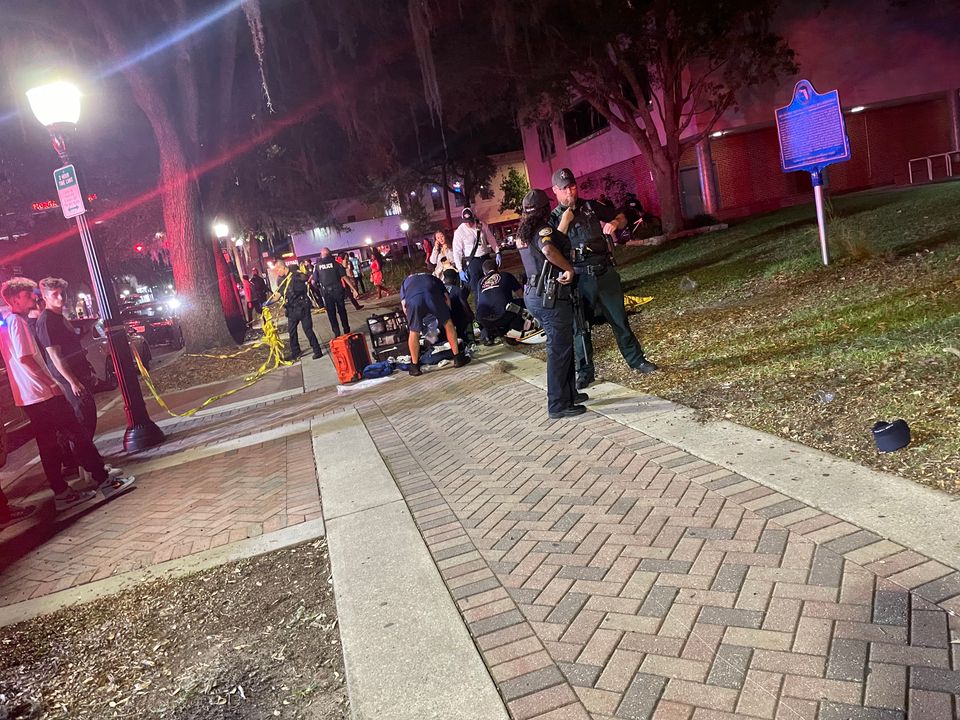 On May 6 at 1:08 am shots were fired on 100 South Main Street. Based on a preliminary investigation done by police, this incident started as a physical confrontation between the shooter and the victim, which escalated to gunfire. Paramedics and police arrived at the scene within minutes. A crowd gathered around the man as paramedics were treating him. Police backed the crowd up and put caution tape around the area. Paramedics treated the man for 10 minutes before he was placed in the ambulance and sent to the hospital.
The suspect was reportedly wearing brown pants and a letterman jacket. It was later reported the suspect was wearing a dark hoodie. Police attempted to follow the suspect throughout the night, however, according to an officer standing at Bo Diddley Plaza this morning, they have yet to apprehend the suspect. The officer and his partner were present for a car showing and concert being held in the area. When asked if they had apprehended the suspect, the officer responded: "Not yet."
Bystanders reported seeing a group running into a white four-door car. One man at the scene who I spoke to took note of the young age of the group. "I saw five kids run into the car, like young teenagers, twelve, thirteen." Police got one call about a silver Audi passing down southeast 2nd place. Another man placed a call about a silver SUV speeding past his house after he heard three gunshots.
Upon arriving at the hospital, the victim was in cardiac arrest and breathing, but not responsive. One officer inquired over the radio if the victim had both shoes on. According to the officer who responded to his question, the victim's shoes were taken off on the scene and given to his girlfriend. Shortly after the victim arrived at Shands they were pronounced dead.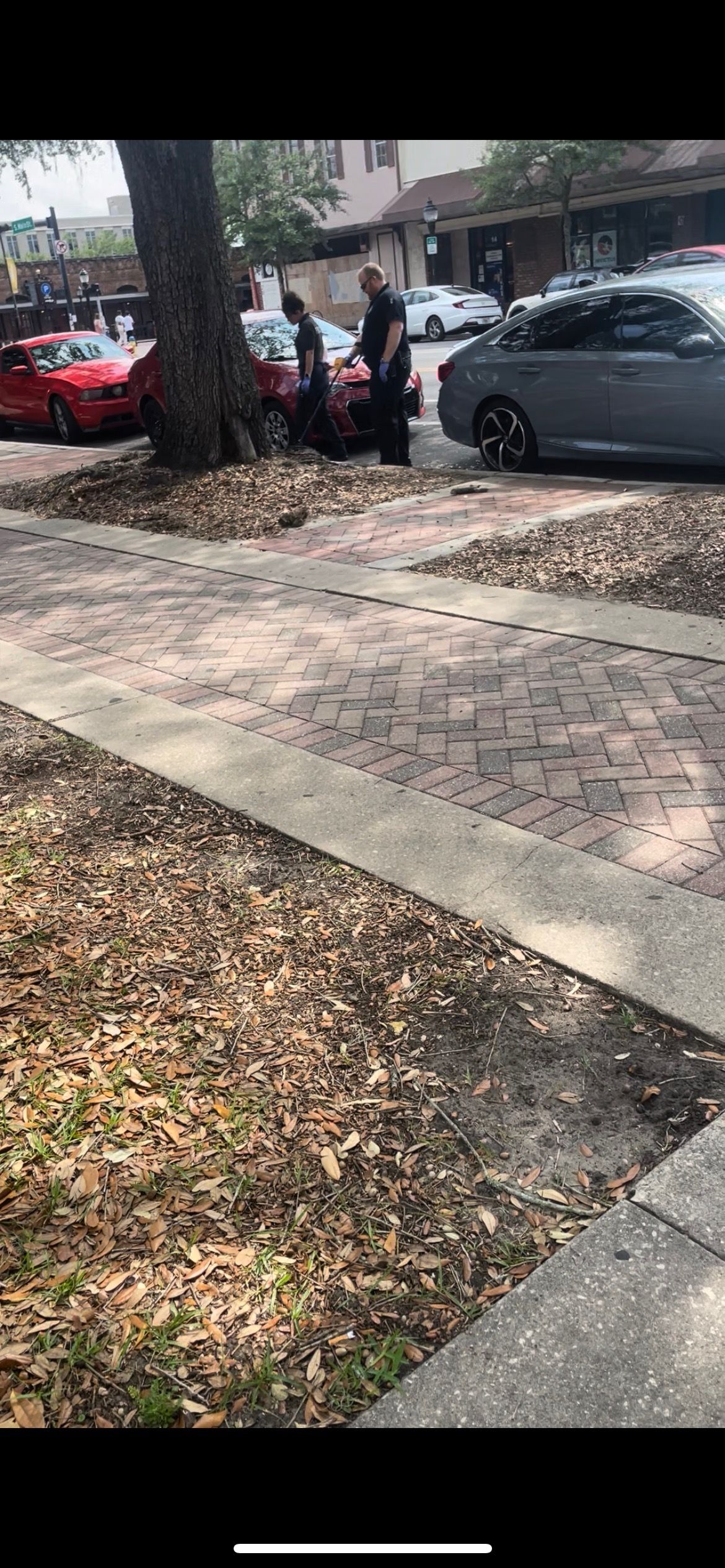 On May 6, 5:40 pm, I spoke to an officer over the phone regarding this case.
Q: Was anyone else injured at the scene? I heard reports on social media about someone shooting indiscriminately at Simon's and I wanted to check the validity of that.
A: No it was just one victim, now deceased.

Q: Do we know what the motive was yet?
A: No, detectives are still looking into that although the preliminary investigation revealed there was an altercation prior.

Q: Do you have any leads on who the suspect is yet?
A: Detectives are looking, but they haven't yet provided that information.

Q: Do you have any information on the victim?
A: Yeah, we have their information, the family has been notified.

Q: Do you think the Gainesville Police will find the perpetrator in a short amount of time?
A: I mean, they're actively working on the case and investigation as far as leads and all that. I don't know the time frame, we don't put these investigations on a time frame. If you look up our website you can find the press release, the actual press release on there, if you needed it or whatnot.
As of May 8th, 5:00 pm, according to the GPD Office of Public Information, the shooter has not yet been identified and no arrests have been made.
On May 13th the Gainesville Police Department released an update on Facebook stating the suspect is in custody.
---
GPD Audio:
Source: Broadcastify
1. Some audio quality is poor and there may be mistakes. Codes have been put in to flag possible inaccuracies:
(GARBLED): I cannot make the audio out.
(?): I have an idea of what they're saying but there are doubts.
2. A lot of audio contains police code. Police code will be marked in bold.
3. Speakers have been associated with numbers, however, they may be incorrect at times.
Disclaimer: Audio that references incidents other than this shooting have not been transcribed and are disregarded from this transcript.
Audio 1: 1:05 am - 1:35 am
03:16 We got shots fired sounds like it's coming South of 100 west
04:09 Alpha 6 we have one down gunshot wound to the head 100 south main
(Fast talking and yelling)
04:36 Give me the EMS Main West University
04:48 There in route Simon's
04:53 They went Eastbound I'll say that
05:18 I'm at 200 East
05:23 What is your location
05:26 I'm at 200 Southeast 2nd ave I have no sign of him
05:57 Cardiac arrest give him CPR
06:17 Across from Simon's
06:29 What was he wearing? The suspect
06:32 Six reference bystander said he was last headed east from 100 south main bravo mike brown letterman jacket, we never had eyes on him
06:50 East of us from 1st Street were on 1st Street and 1st ave right now get him all the way to the library
07:44 31 Engine 1 gunshot wound at 8 south main street Simon's nightclub the patient had a gunshot wound to the head.
08:09 EMS is in route
08:26 We need to block main and university and also first ave and main
08:51 Suspect was last scene wearing a letterman jacket (GARBLED) Southeast of this location according to security inside Simon's
09:11 Letterman jacket black pants going Southeast of location
09:20 Alpha 6 spoke to bystanders saw a group of bravo mike's running into a white car white four door around 300 Southeast 1st Street
09:33 Correct at about 100 Southeast 1st street
09:38 (GARBLED) CPR
09:49 Where would you like us to respond to
10:11 537 Where would you like the aso(?) k9 to go
10:14 Out to where we are by the admin building
10:36 What's your 20?
10:49 Directly East of Simon's
11:01 10-4 in another call we have a silver Audi pass down Southeast 2nd place. The arcade bar advised they have a camera that points across the street.
11:54 (GARBLED) Trauma alert Shands
12:12 If anybody's available channel 2 have them start checking plate readers for a white Audi in Downtown area
12:52 Send us 2 more units for crowd control we'll be at 100 Southeast Main
13:55 527 I believe I have the suspect's shoe or somebody else who was involved immediately east of the crime scene

17:06 Can you give me patient information

17:17 1300 West where do you want me to go
17:26 By the old courthouse building

17:35 You turn South on Main Street you'll see us

17:58 (GARBLED) the hospital

19:28 Patient tagged for transport on route to Shands

19:59 Two units at the hospital tell them to wash his hands please

21:28 Suspect is gonna be at (GARBLED) with dark hoodie going Southeast

21:43 Dark hoodie going Southeast
23:15 We have in route to Shands one traumatic arrest gunshot wound on 126

24:06 Please be advised we have notified Shands

24:37 31 has arrived at the hospital at 1:28

28:47 Rescue 33 be advised cardiac arrest we do have CPR in progress

29:27 We did have one subject that called in, said he heard three gunshots and saw a silver SUV go past his house

31:26 We're an approximate 100 blocks from where they saw the vehicle leaving at a high rate of speed

Audio 2: 1:35 am - 2:05 am
01:52 Unresponsive patient
01:57 Can you advise if he's breathing
02:13 Patient is breathing cardiac arrest
02:19 EMS is on scene be advised this is not a cardiac arrest
07:20 Start a 2nd rescue we got a 2nd patient responsive, probably signal 19
07:55 Lifeline Bot: Rescue 35 unconscious patient 2823 north east 16th terrace
08:08 (GARBLED) One of the units at the hospital
08:22 (GARBLED) the victim
08:26 10-4 they're actively looking on him
08:29 Did he have both shoes on
08:36 No apparently his shoes were taken off on scene and were given to the girlfriend
08:42 The shoes were taken off and given to the girlfriend?
08:45 Yes sir
08:50 Its weird which is why i wanted to know, appreciate it thank you
09:31 Have we yet identified the individual?
09:41 Not that I'm aware of
10:11 EMS is requesting are assistance at 2823 north 16th terrace 2 unresponsive patents reference single 19
12:19 (GARBLED) Call me back and let me know so we can get a positive ID on him
14:08 Any units that can clear for 22 fox trot 1600 West
15:02 0745 you have any takers
15:05 (GARBLED)
15:11 Lets call U P that's free and available in the area to respond to
15:21 We have one detained Northwest (GARBLED) reference single zero
15:28 10-4 one detained... What's your 20
15:38 Across from State Attorney's office first and first
17:00 FHP(?) doing something at Main and University (GARBLED)
17:32 10-4 call out our dogs in reference to an article search
17:51 10-44 we got a vehicle fleeing from state attorney's office
18:02 Black 2 door(?)
18:15 Northbound coming up on 8th avenue making right head turn 8th avenue east bound flew threw a red light high rate of speed trying to catch up, not sure if it's gonna be on (GARBLED) 35 or not
19:01 Northbound 9th Northbound 9th street 28th ave high rate of speed
19:28 Trying to catch up not sure if (GARBLED) 35 or not
19:38 How do we think its involved
19:43 Fleeing from State Attorney's office
19:51 You don't have anything to tie that to the 35
20:02 Heading Northbound not pursuing, pulled off to the right about 1700 blocks
20:58 10-46 the vehicle is unoccupied
21:22 (GARBLED) Alpha 6 one Black Kia
21:33 (GARBLED) Black Chevrolet reference single zero
21:46 Stop right there somebodies in the (GARBLED)
22:02 She's unrelated, unrelated.
23:33 Vehicle fled from us downtown on single 35 call
26:45 Lifeline bot: Engine 28, Rescue 28, vehicle accident northwest 200 50th Street and Northwest 5th avenue
27:34 Alachua Hgt 4(?)
27:50 For now evening shift will hold till told otherwise
28:09 Rescue 28 responding northwest 50th street northwest 5th avenue
28:35 Were getting an influx of calls and its a bunch of old men at this point whoever is downtown is gonna be down there (GARBLED) 1100 West so anything thats not priority