Ramblin' Mutts Delivers Memorable Performance at Bo Diddley's Free Fridays Concert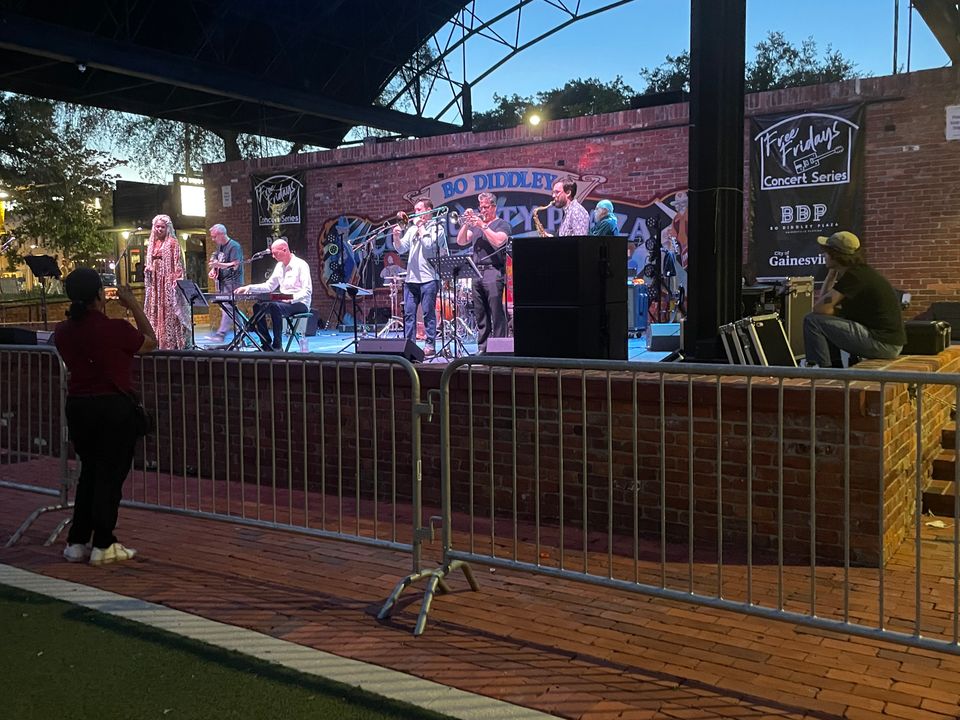 On Friday, June 16th, Gainesville residents were treated to an evening of live music as the Ramblin' Mutts took the stage at Bo Diddley Plaza for their anticipated Free Fridays concert. The band, hailing from Gainesville, captivated the audience with their unique blend of blues, leaving an indelible mark on the vibrant music scene of the city.
The Ramblin' Mutts, led by Dan Stepp on vocals and keyboard, showcased their musical prowess during their performance, which featured a repertoire of original and cover songs. The band's setlist featured numerous songs from their latest album, along with covers of classic blues tracks, paying homage to the likes of Sonny Williamson and Little Walter. To further enrich the musical experience, the band's vocalist Christina Holder delivered a riveting rendition of the jazz standard "At Last."
The Ramblin' Mutts, deeply rooted in jazz, blues, and soul, smoothly wove together these genres to create a sound that resonated with the audience. Drawing inspiration from their collective musical influences, the band's distinctive style became the hallmark of their performance. With their impressive musicianship, they navigated the intricacies of jazz, the depths of the blues, and the infectious rhythms of soul, ensuring an evening of captivating melodies and heartfelt performances.
The band's journey began with humble beginnings, as they initially came together through their shared love for music. Stepp and Paul Goble started jamming together, playing blues covers until Stepp's songwriting took center stage. The addition of a horn section, comprising Joe Bridenside on trumpet, Paul Johnson on saxophone, and Jacob Armstrong on trombone, further expanded their sonic palette. Their sound was multiplied by bass player Richard Heipp and drummer Richard Patrick. The final touch came with the inclusion of Christina Holder, a seasoned jazz singer, whose powerful vocals completed the dynamic to the band's sound.
This particular lineup of the Ramblin' Mutts has been honing their craft for the past four years. Throughout this time, they have diligently developed their sound and crafted a cohesive musical identity. Their dedication and commitment to their artistry shone through their performance, captivating the audience and leaving a lasting impression.
Speaking about his musical endeavors, Stepp emphasized the joy that comes from collaborating with different musicians and being part of multiple bands.
"I just love playing with people, with different musicians, just the fun that comes out of it."
For those who missed their performance at Bo Diddley Plaza, the Ramblin' Mutts can be found on social media platforms such as Instagram and Facebook. Their album "Pity and Mercy" is available for streaming and purchase on iTunes and Spotify.
As the Ramblin' Mutts continue to make their mark on the Gainesville music scene, their talent and dedication serve as an inspiration to both aspiring musicians and seasoned performers alike. With each performance, they invite audiences into their world of jazz, blues, and soul, creating a memorable experience that will leave a lasting impression.