Savants of Soul Sends Off Gainesville With Memorable Performance at Bo Diddley Plaza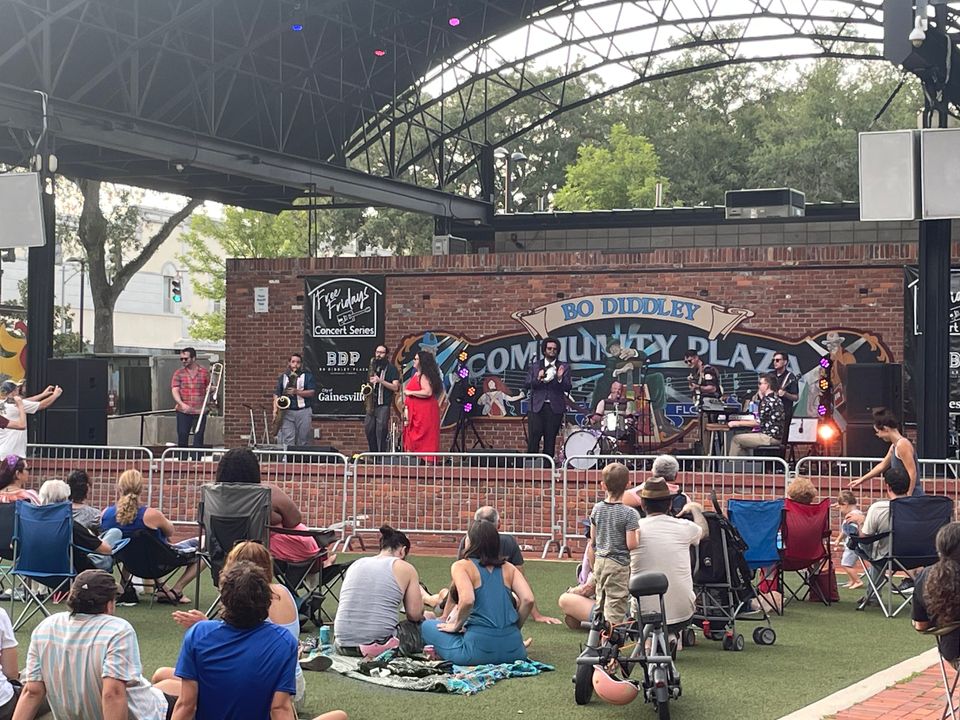 On Friday, July 14, local Gainesville band The Savants of Soul showcased their musical talents at Bo Diddley Plaza before embarking on their tour across the Southeastern United States. The band played a dynamic performance rooted in old southern soul, along with punk and jazz to create "soul soup" as the lead singers put it. The Savants of Soul consists of nine members, combining their voices to create a lasting impression on the large crowd present. The current iteration of the band has been playing for over three years, featuring Will Campbell on guitar, John Gray Shermyen on bass, Zack Emerson on keyboard, Benny Cannon on drums, Ray Vigil on baritone sax, Jacob Armstrong on trombone, Jordan Jones on tenor saxophone, Justin McKenzie on vocals and tambourine, and Mandy Ferwerda on vocals and trumpet.
The Savants of Soul played a variety of songs from old, to new, to covers. One of the lead singers, McKenzie walked through their set from beginning to end.
"We started today with one of our songs that hasn't been released yet. It's called "I'd Rather Go Broke." It's just really funky and a good opener, sets the tone for what you're about to hear… Some people say you can't play all bangers, I disagree. To add some dynamic to the set you definitely wanna slow things down. Having two singers helps add a little bit of a different flavor. Even if they're two poppin' songs, they don't have to sound the same. Having them switch it up, keeping it interesting. Never a dull moment that's our kind of philosophy when writing a set… For time we had to do a little bit of adjustments but we ended with a song we actually stopped playing regularly a few years ago. Just had the urge to do it, that's "Hoopla" off our first album. It's just good, gets everybody hyped for when we do our final closing song, [which is a cover] called "Dance to the Music." It's not just the lyrics, it's not just the title, it's infectious, you wanna start dancing."
The  lead singer, Mandy Ferwerda performed a variety of cover songs throughout the set including "Pick it up, Lay it in the Cup.", "Valerie", "Let's Get it On", and "Crazy."
The Savants of Soul is getting ready to tour across state lines, hitting various cities across the Southeastern United States. Ferwerda describes the lineup for the tour.
"We have a stint going from Melbourne. Florida, not Australia, maybe one day. Then we're going down to Miami. Then we've got another Northern leg. We're gonna go through Georgia. [Following that] Asheville in North Carolina, and Charleston in South Carolina. Then there are some other works that are supposed to get sprinkled throughout those."
Saxophone player Jordan Jones has been playing a multitude of instruments from a young age. He offered solid advice to new and up-and-coming musicians around Gainesville.  
"Perseverance is everything, as long as you keep at it and don't give up things will eventually happen for you. It's all a gamble at the end of the day, there are no guarantees in life, if you're doing it for money you're doing it for the wrong reasons. We're all here because we have fun doing it, we would love for this to be our job and for this to be our only source of income but for now, it's fun for us."
The Savants of Soul can be found on many streaming services including Spotify, Apple Music, Amazon Music, Youtube, and SoundCloud. Their official website can be found here.