Shoppes at Thornebrook Launch 'First Friday' Events With Food Truck Festival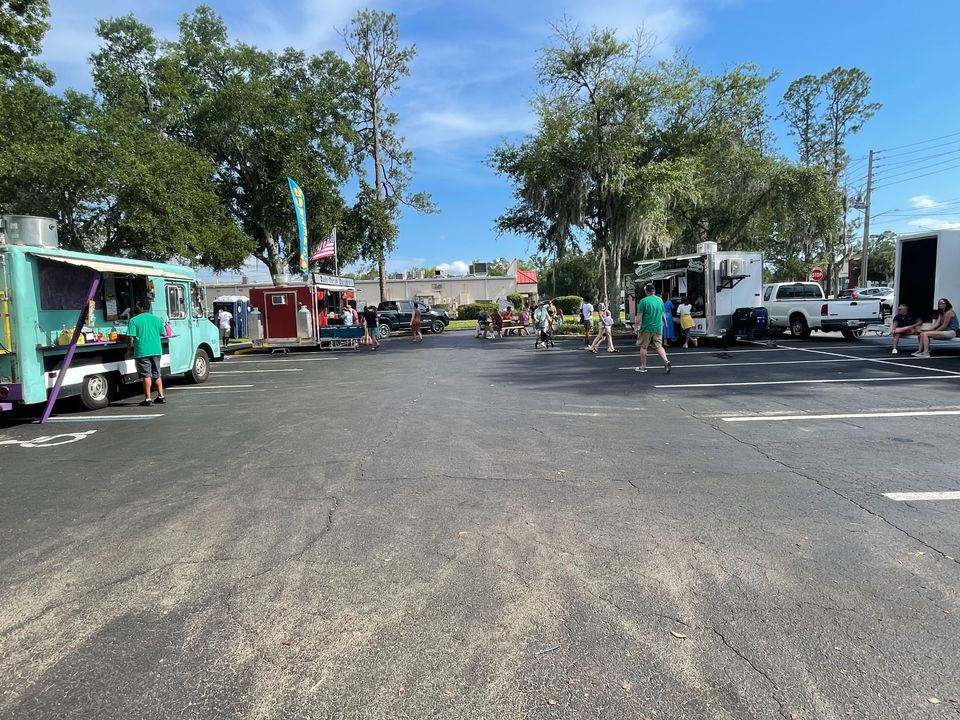 On Friday, July 7th, food trucks gathered at Thornebrook for the first of the 'First Friday' events to be held at the plaza. Local Gainesville food trucks including This Slaps, Rollin Sliders, Vegan Gator, and Back Porch Burgers were present. Local radio station Kiss 105.3 held a raffle with prizes consisting of gift cards for local businesses at Thornebrook.
The event was organized by a special events committee consisting of four small business owners at Thornebrook, Caitlyn Adams, the owner of Heart-Mind Healing, Adam Muir, the owner of 352 Fitness, Joy Hughes, the owner of Life Unplastic, and Erin Huston the owner of Arabesque. Adams believes this event can help promote local food truck businesses, as well as the local businesses at Thornebrook.
"It gives them a place to set up, it's really a dual benefit. They can set up at our parking lot and people are coming to see them. We also have been advertising to our client base... to have them come out and support the food trucks."
The food truck festival was a green event, meaning no styrofoam and single-use plastic were used by the trucks or vendors. All the trash was recyclable, and the committee specifically picked out two vegan food trucks in order to give customers options. Hughes, whose business is centered around sustainability, goes into more detail about the green event.
"We've offered our help if they need help with alternatives that maybe are a little bit more sustainable. We are providing free water and repurposed jars for drinking glasses and reusable forks to try and help curb that disposable waste."
The event featured live music from local artist, T.J. Brown, playing a range of sounds on his acoustic guitar. Brown's music consisted of soul-pop, with a country feel mixed in. Brown played cover songs however most of his lineup consisted of original music, with his song, 'Moon Moves (the Water)', as well as his latest release, 'Times Gonna Take it Away.'
First Friday events were organized by the committee as a way to promote the local businesses around Thornebrook. Muir spoke about how he and the other shops in the plaza want to be active in the community.
"We got some new business owners coming into the plaza, younger business owners. We wanna get involved, we wanna get our names out in the community. We wanna make this a plaza where people think about coming to hang out."
The committee at Thornebrook has plans for future First Friday events, with each having a different theme. Muir layed out plans for the themes of future events.
"The next one's going to be a kid's event, like a kid's after-school fair, then we have a movie night coming up, and we've talked about doing a barbecue competition. We just kind of go with the flow and what we think is going to be a fun event."
If you want more information about the Shoppes at Thornebrook and want to keep updated about their upcoming events, their page can be found here.