Gainesville Police Department Asks for Help Locating Armed Robbery Suspects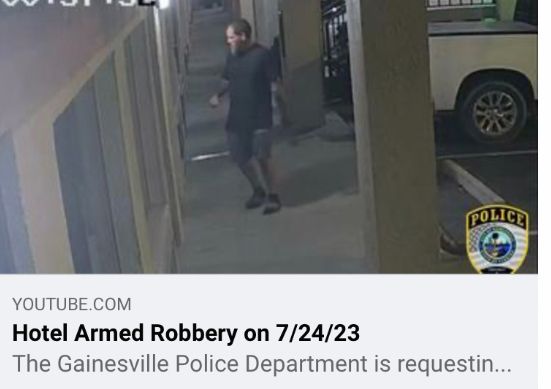 On Tuesday, July 25th, the Gainesville Police Department made a Facebook post requesting assistance in locating one of the suspects of an armed robbery that occured on July 24.
The robbery occurred at the Quality Inn University hotel. The suspect, along with two others targeted victims in two hotel rooms. The suspect reportedly held the victims at gunpoint and tied them up. He then beat them with a pistol and stole their truck from the parking lot. The suspect later crashed the truck in the area of SE Williston Road and SE 16th Avenue. He fled into the woods and was not located.
The picture GPD submitted of the suspect was a man with a black hat, black shoes, a black sleeveless shirt, and gray shorts. He appears to have a knife holster in his pocket.
Yesterday, on July 27th, GPD asked for more help in identifying the suspects. The post disclosed one of the victims sustained serious injuries. The post linked to a video showing footage from the robbery.
The Facebook posts and the video can be found below. When more information is retrieved this page will be updated.