Harn Museum Celebrates Diversity with Art and Pride Museum Night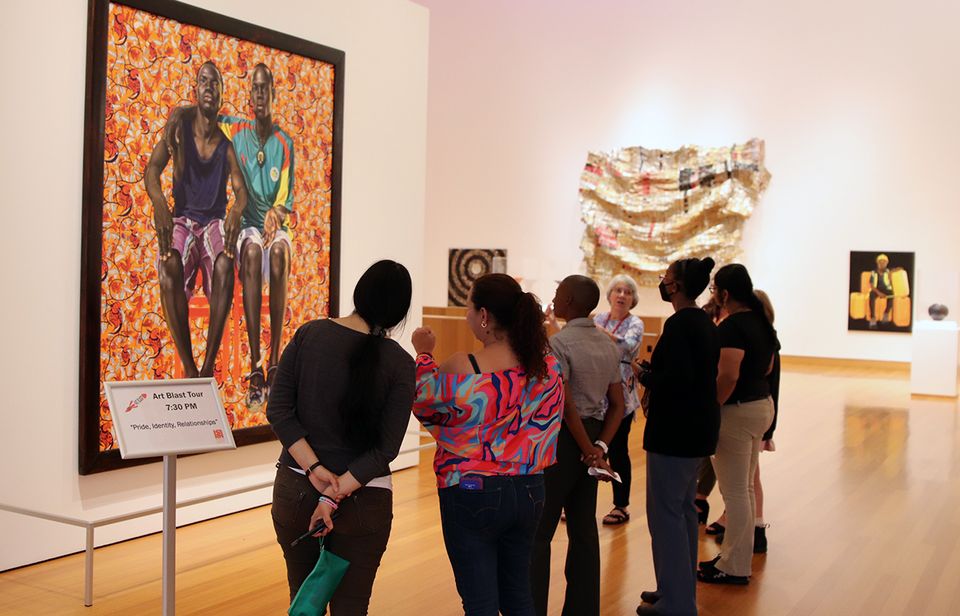 Yesterday, on June 8th, Harn Museum celebrated Pride Month with their Museum Nights event for June. Harn holds Museum Nights events monthly and took the opportunity to celebrate diversity by theming the event around LGBTQ+ artists. The event showcased a Ballroom dance floor enlivened by beats from Dj Elio, along with a digital installation that gives a deep dive into the LGBTQ+ artists featured in Harn's collection. The event hosted a multitude of different tabling organizations including the UF Center for Multicultural Engagement, TranQuility, Beyond the Binary, the UF Department of Gender, Sexuality and Women's Studies, the UF Counseling and Wellness Center, and the Alachua County Library District.
The main exhibit curated for this event was the Art+Pride digital display, which showed a number of featured LGBTQ+ artists. Visitors were able to scroll through a touchscreen T.V. to admire the works of these creators. Harn features 19 LGBTQ+ artists and the Director of Public Relations and Marketing, Tami Wroath, says the Harn Museum has plans to further the enrichment of art created by LGBTQ+ people at Harn,
"It is part of our collection's plan to identify more of our LGBTQ artists and we are in discussions about possibly having an exhibition in the future but that would be up to our directorial team."
Among the LGBTQ+ organizations present was the Pride Community Center of North Central Florida. The group was present to raise money following the move of their current community center location. A member of the organization, Patrick McAdams, states the significance of having groups of diverse individuals come together for events like this, speaking on how Pride can be represented through art.
"Art is a representation of how the artist feels and their life story, to create their own creation, and their own experience, it's important to pride."
Another LGBTQ+ organization tabling was Beyond the Binary. The group was present to raise awareness about the need for Black, Brown, and Queer spaces in today's political climate. Co-Founder of the group, Carlos, spoke on the value of events like this one,
"This event is important because Queer resilience is important in political times like this, and community even more."
A number of UF departments held tables including the UF Department of Gender, Sexuality, and Women's Studies. The Associate Chair of the department, Alyssa Zucker, says art is a great way of expressing different conceptualizations of gender and sexuality, emphasizing the need to celebrate diversity in current times.
"There's a lot of attacks on LGBTQ people right now so having established institutions that celebrate diverse sexuality and gender is really important, just to be out in public and have our community."
Harn Museum's Art+Pride Night was a successful platform for supporting and celebrating LGBTQ+ artists. Harn amplified voices, promoting over a dozen LGBTQ+ artists and a multitude of different LGBTQ+ organizations. The event demonstrated the power of creative expression with attendees being unapologetically themselves. The Student Engagement Manager at Harn Museum, Alyssa Peyton, encapsulated the museum's mission and the significance of Museum Nights at Harn.
"It's always been part of our mission to be inclusive and accepting of all. The museum is always free and open to all but the Museum Nights especially bring our campus and community together."