The Imposters Play Beatles Hits in Their Free Fridays Concert at Bo Diddley Plaza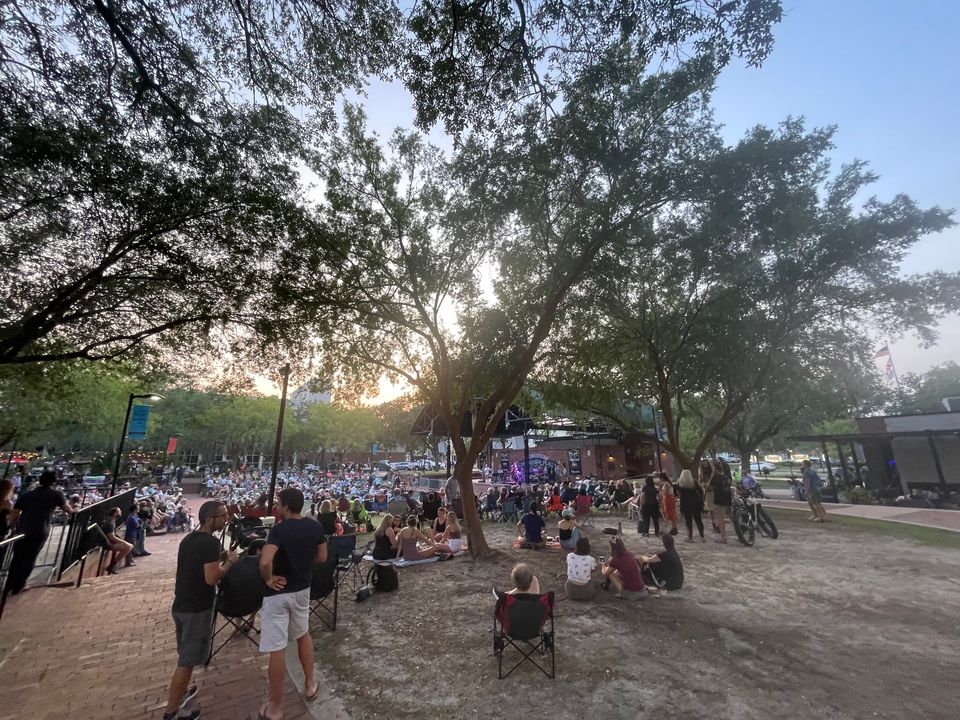 Last night on June 30th 2023, The Imposters played Beatles hits and original music for concert goers at Bo Diddley Plaza. The renowned Beatles cover band has been active in Gainesville for nearly 40 years. Founders Michael Derry and Mark Loveland started the band in 1984, four years after John Lennon died. The Imposters feature Don David and Derry on guitar, Ron Thomas on Bass, Brad Bangstad on keyboard, and Rob Rothchild on drums.
From 7:00pm to a few minutes before 9:09pm, the band played classic Beatles songs. They started out their set with "Ob-La-Di, Ob-La-Da", "Say the Word", and "I Feel Fine." The band showed their ability to infect the crowd with sentimental nostalgia.
Following a short break before the second half, The Imposters brought on violinist Aaron Kolverson, a seasoned musician who periodically joins the band for special occasions. With 30 years of experience playing the violin, Kolverson adds a unique touch by seamlessly integrating violin solos into classic Beatles songs, enhancing the band's overall sound. In an interview, Kolverson shared his experience playing with The Imposters.
"I've played with these guys in a lot of different settings, and they asked me to play in this particular setting this evening. I play in a lot of different styles, so I was just able to adapt to play with this."
Although not an official member of the band, Kolverson's contribution added a dynamic element to the concert.
The Imposters primarily played hits from the Beatles however they showed an extensive repertoire by playing Jimi Hendrix's "The Wind Cries Mary" and "Sunny Afternoon" by the Kinks.
Additionally, the crowd got to hear original songs by various members of the band which included David's "Willful Kitten", Thomas's "Go Slow", and Derry's "Goodbye." These tracks showcased The Imposters' ability to create original music that smoothly transitioned too and from timeless Beatles classics.
As the night came to a close, The Imposters ended their set with renditions of "Carry That Weight", "In the End", and "Twist and Shout." The Imposters paid tribute to the legacy of the Fab Four while infusing their own passion and creativity into the performances, creating a memorable evening of music.
In an interview, Derry recalled his first performance in Gainesville, showing the band has long standing experience playing for packed shows.
"The audience response was great, there hadn't been any Beatles bands in quite awhile, about four years, so we were the first big thing. The audience just loved it, so much good feeling. We sold out two rooms, we had a string quartet, a 3-piece horn section, I remember clearly, every bit of it."
Having played shows in Gainesville for nearly 40 years, Derry offered sound advice to new, up-and-coming bands around the Gainesville area.
"There's two things, obviously play from the heart and do whatever music you love, but also focus on the audience. That's who we're really playing for, music is like a ladder for the soul, it just lifts people. You find an audience, make sure you have rapport with them, but make sure you're present. The main thing is listen to each other all the way, no big heroes, everybody gets their solo. Take your solo but get back in the band and listen."
Bo Diddley Plaza hold free concerts that are open to the public every Friday. If you would like to learn more about the schedule for the concert series you can click here.